Trump Russia - the saga in 200 words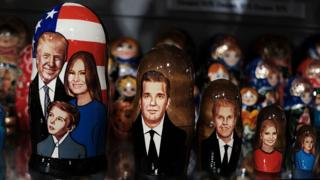 It's the story that has dominated Donald Trump's presidency, but it's complicated.
In summary
US intelligence agencies believe Russia tried to sway the election in favour of Mr Trump and a special counsel is looking into whether anyone from his campaign colluded in the effort.
Any evidence?
Senior members of Mr Trump's team met Russian officials. Several of these meetings were not initially disclosed.
What meetings?
Ex-national security adviser Michael Flynn lied to the FBI about meeting the Russian ambassador to the US before Mr Trump took office. Mr Flynn has entered a plea deal, prompting speculation that he has incriminating evidence.
The president's son, Donald Jr, met a Russian lawyer during the campaign who had "dirt" on Hillary Clinton, and adviser George Papadopoulos has admitted lying to the FBI about meetings with alleged go-betweens for Russia.
Who else is involved?
The president's son-in-law Jared Kushner is also under scrutiny, and former campaign chairman Paul Manafort has been charged by investigators with money laundering, unrelated to the election.
And the president?
Since he fired the man leading one of the investigations, ex-FBI Director James Comey, there are questions whether the president has obstructed justice. Legal experts differ on this.
---
Want to know more?