FBI chief sacking: Who will replace James Comey?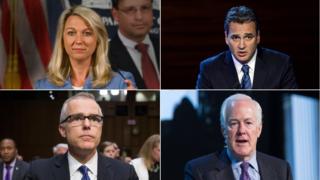 US President Donald Trump has said he could announce a replacement for former FBI director James Comey as early as this week, and former Senator Joe Lieberman was among his top choices.
Mr Trump told reporters on Thursday his pick would be announced "very soon". The position requires Senate confirmation.
The White House was engulfed in turmoil after Mr Trump fired Mr Comey, citing his handling of the FBI investigation into Hillary Clinton's use of a private email server while at the State Department.
Critics have accused the White House of trying to thwart Mr Comey's investigation into alleged Russian interference in the US election and any Moscow ties to Trump associates.
There were reportedly at least 14 candidates in the frame, but Trey Gowdy and John Cornyn have ruled themselves out.
Earlier this week, White House Press Secretary Sean Spicer added three more names to the list.
Joe Lieberman: The former Connecticut senator, 75, is a Democrat-turned-Independent who endorsed John McCain in 2008 and Hillary Clinton in 2016. He was the Democratic vice-presidential candidate on the 2000 ticket with Al Gore. Mr Lieberman lost the Democratic primary in 2006 but kept his seat as an "independent Democrat" in the general election. He was Connecticut's attorney general before he was elected to the Senate in 1988. He retired from Congress in 2012.
Acting FBI Director Andrew McCabe: The former FBI deputy director became second in command in January 2016. Before joining the FBI, he interned with the Department of Justice's criminal division while in law school and later worked at a Philadelphia law firm. Mr McCabe's wife, Jill, ran as a Democrat in Virginia for a state Senate seat in 2016 and received political donations from some Clinton allies.
He appeared to contradict the White House during testimony last week, telling a congressional panel the FBI investigation into alleged Russian meddling in the US election was "a highly significant investigation". He also said Mr Comey "enjoyed broad support within the FBI and still does to this day", casting doubt on Mr Trump's claim that the former FBI chief had lost the confidence of his staff.
Frank Keating: The former Oklahoma Republican governor worked as an FBI special agent before becoming a politician. He penned an op-ed in the Tulsa World last April entitled: "Anyone but Trump". But his brother, Dan Keating, served as the Oklahoma state co-chair for Mr Trump's campaign. The governor told MSNBC at the Republican National Convention that he voted for Ohio Governor John Kasich in the Republican primary election, but conceded "Trump's our guy" and there was no other alternative.
Richard McFeely: Retired from the FBI in 2014 after more than two decades with the agency. He was a top official who oversaw about 60% of FBI operations, including the Cyber Division, which included an upwards of a thousand agents, analysts, forensic specialists and computer scientists, according to a 2013 New Yorker piece.
Mike Rogers: The former Michigan congressman was endorsed by the FBI Agents Association, which represents thousands of current and former FBI agents. The former chairman of the House Intelligence Committee is also an ex-FBI special agent and a veteran of the armed forces. The association described Mr Rogers as "someone capable of confronting the wide array of challenges facing our help ensure that the bureau remains the world's premiere law enforcement agency".
Alice Fisher: The defence lawyer was the first candidate interviewed at the justice department, according to US media reports. She ran the justice department's criminal division as an assistant attorney general under former president George W Bush and is currently a partner at a Washington law firm. Ms Fisher would be the first woman to lead the agency if selected.
Judge Michael Garcia: The former federal prosecutor serves as an associate judge on New York's highest state court. As a US attorney, he oversaw an investigation into a prostitution ring that prompted the resignation of then-New York Governor Eliot Spitzer. He also led an investigation into alleged corruption in the bidding process for the 2018 and 2022 World Cups. His inquiry also aided a criminal investigation of Fifa, the world governing body of soccer, by US and Switzerland. The Latino judge was appointed to the court by New York Governor Andrew Cuomo in 2016. He also was appointed as assistant secretary for Immigration and Customs Enforcement (ICE) by former President Bush in 2002.
Henry E Hudson: The US district judge in Virginia was appointed by former President Bush. He is best known for striking down a key provision of former President Barack Obama's healthcare law in 2010. The conservative judge also sentenced football star Michael Vick to nearly two years in federal prison for running a dog-fighting operation in Virginia in 2007.
Frances Townsend: Ms Townsend served as a security and counterterrorism adviser to the Bush administration. She was reportedly spotted at the White House on Monday afternoon before Mr Comey was fired and met Mr Trump last year at Trump Tower in New York when she was under consideration for a top administration role. The former federal prosecutor in New York climbed the ranks to become a senior intelligence official at the justice department and US Coast Guard in Washington. She would become the first female to lead the agency. However, she was one of dozens of national security veterans to sign an open letter calling Mr Trump a "fundamentally dishonest" candidate during the election campaign.
Adam Lee: The head of the FBI's office in Richmond, Virginia, returned to the justice department for a second interview on Saturday, according to US media.
William Evanina: He is the director of the National Counterintelligence and Security Center in the Office of the Director of National Intelligence.
Paul Abbate: He currently serves as the executive assistant director for the FBI's Criminal, Cyber, Response and Services Branch. He previously oversaw FBI field offices in Washington and Detroit and has been at the agency for more than 20 years.
Michael Anderson: The FBI special agent heads the agency's Chicago office.
Judge Michael Luttig: He is a former justice department lawyer who was appointed by President George HW Bush. He left the bench in 2006 to join Boeing, where he serves as general counsel. He was considered for two US Supreme Court vacancies, which were instead given to Chief Justice John Roberts and Justice Samuel Alito.
Larry Thompson: He served as a deputy attorney general under the Bush administration from 2001 to 2003. He also was a federal prosecutor in Georgia and has held several senior roles at PepsiCo.
Ray Kelly: The former police commissioner led the New York Police Department (NYPD) for more than a decade. He created the first counterterrorism bureau in any police department in the wake of the 9/11 attacks and oversaw a marked drop in New York's crime. But under his leadership, the NYPD was scrutinised for its use of aggressive force and stop-and-frisk programme, which critics say disproportionately affected non-white residents.
John Suthers: The mayor of Colorado Springs was formerly the state's attorney general from 2005 to 2015. As a prosecutor he was one of several to sue the Obama administration during the implementation of the Affordable Care Act and he signed on to a legal challenge to defend the federal Defense of Marriage Act, which barred gay marriage.