Tales of deportation in Trump's America: Week Four
By Katie Shepherd
BBC News, Washington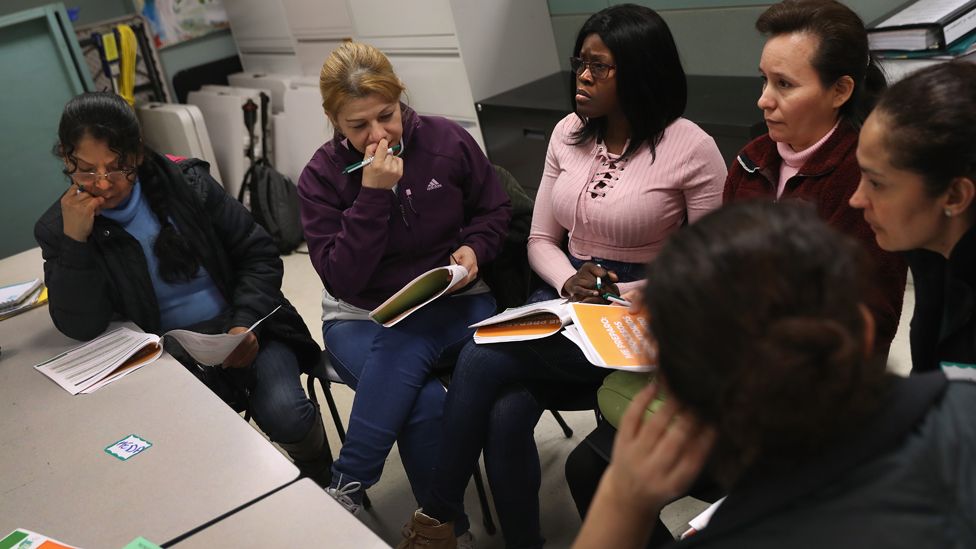 Under Donald Trump's new immigration order, even undocumented immigrants with similar circumstances can have opposite outcomes.
Under an Obama administration policy, some undocumented immigrants without criminal records and established families and careers in the US were given a temporary reprieve from deportation.
In February, the Trump administration issued new enforcement memos that made virtually anyone residing in the US illegally a priority for removal, removing such considerations.
The new policy leaves the decision who to deport to deportation agents and encourages a "case-by-case" evaluation. Such individual discretion can spur dramatically different results for immigrants with otherwise remarkably similar circumstances.
This week, we looked two cases that illustrate this effect, as well as some of the others making news for facing deportation.
Order of supervision extended: 4 April 2017
Ms Castro, who was born in Mexico and lives in Lothian, Maryland, is the wife of an Army veteran. She has four children, including a disabled son, who are all US citizens.
She also has a 20-year-old removal order that places her on uncertain ground with immigration officials. Under the Obama administration, Ms Castro had been attending regular meetings with Immigration and Customs Enforcement (Ice) since 2011 and even had a legal work permit.
When the Trump administration said that it would prioritise deporting anyone with a final order for removal, Ms Castro and her family dreaded their next appointment with immigration officials.
Despite her fears, Ms Castro decided to go to her appointment, hoping that the agency would allow her to stay with her family because she had no criminal record.
On 4 April, Ice granted Ms Castro a "non-detained order of supervision" which means she is required to report her status to immigration officials, said an Ice spokesperson.
Because of this agreement, she will be able to stay in the US for at least one more year until her next check-in with Ice.
Ms Castro's continued order of supervision "doesn't mean someone else in her exact same situation would be granted another year," Joshua Doherty, Ms Castro's lawyer says.
Maribel Trujillo-Diaz, 42
Maribel Trujillo-Diaz's case mirrors Ms Castro's in many ways. She is also a mother to four US citizens living near Cincinnati, Ohio. Under the Obama administration, she too had been attending regular meetings with Ice for several years and had been allowed to stay in the US with her family.
With no criminal record, Ms Trujillo-Diaz also obtained a legal work permit through US Citizenship and Immigration Services (USCIS).
Ms Trujillo-Diaz came to the US in 2002, but she first encountered Ice agents during a workplace raid of the Koch Foods factory where she was working in 2007, before she had her work permit.
She pursued an asylum hearing, as she had fled Mexico after gang members began targeting her family because her brother refused to join the gang, according to her lawyer, Emily Brown.
Ms Trujillo-Diaz's application for asylum was rejected, as was her appeal.
Despite a final order of removal issued in 2014, immigration officials had allowed Ms Trujillo-Diaz to live in the US with the understanding that she would check in with Ice once a year.
At her first check in since the Trump administration issued its new enforcement priorities, Ice agents told Ms Trujillo-Diaz to prepare for deportation proceedings. She returned for a second check in on 3 April, and again Ice agents told her to be ready to be removed from the US.
Two days later, Ice officers arrested her as she was leaving for work.
Ms Trujillo-Diaz is now in a detention centre in Louisiana, and a request for a stay in her case has been denied.
Ice has scheduled her deportation for 19 April, Ms Brown said.
Some of the reasons undocumented immigrants were not deported under Obama administration policy:
having an American citizen child
being married to a veteran
being the caretaker for a disabled family member
a longstanding presence in the US and history of co-operating with immigration enforcement officials
Order of Removal: 6 April 2017
Ms Tichelman, a Canadian national, faces deportation after serving a two-year sentence in the Santa Clara County Jail in California.
In 2014, while on board a yacht after being hired as a prostitute, Ms Tichelman injected a 51-year-old Google executive with heroin, causing the man to accidentally overdose and die. She was convicted of felony involuntary manslaughter.
A judge determined that Ms Tichelman's crimes made her ineligible to remain in the US legally and issued an order for her removal on 6 April.
She will remain in Ice custody until arrangements for her deportation are finalised, an Ice spokesperson said.
Mr Ali, a resident of Portland, fled Somalia in 1996 as a seven year old. A year later, he had gained permanent legal status in the US.
According to Ice officials, Mr Ali has an "extensive criminal record" that includes two convictions for misdemeanour assault. None of his criminal charges have been for felonies.
Ice agents arrested Mr Ali while he was visiting a country courthouse to plead not guilty to a drink-driving charge.
The arrest inside the courthouse caused backlash from local immigration lawyers and advocates who worry that such arrests will discourage immigrants from seeking legal help.
Mr Ali remains in Ice custody in the Strafford County Correction facility in New Hampshire.
"I've been here my whole life, and they [are] kicking me out for this one charge," Mr Ali told the Bangor Daily News.
"If I go back to my country, they're going to pretty much kill me. I don't know [anything] about my country. I'm American. I consider myself American."
The restaurant owner and father was removed from the US and dropped off in Juárez, Mexico last week, after living in the US for nearly 20 years.
He can apply to have the 10-year ban on entering the US after a deportation waived and try to gain legal residency, but the outcome of such a petition is uncertain.