Trump's ex aide Paul Manafort 'hid' $750,000 payment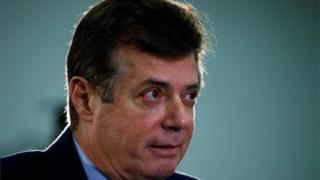 Further allegations have been made in Ukraine about secret funds said to have been paid to Donald Trump's former campaign chairman Paul Manafort.
Lawmaker Serhiy Leshchenko said he had evidence that Mr Manafort had tried to hide a payment of $750,000 (£600,800) from a pro-Russian party in 2009.
Mr Manafort was an adviser to Ukraine's pro-Russian ex-President Viktor Yanukovych.
He denies receiving payments, and his spokesman called the claim "baseless".
What are the basis of the latest claims?
Mr Leshchenko said the documents were signed by Mr Manafort and were found in his former office in Ukraine by its new tenant, along with other papers.
The documents showed a $750,000 payment for 501 computers to a company called David Manafort, from a Belize-registered offshore company, through a bank in Kyrgyzstan.
Mr Leshchenko alleges the invoice was cover for payments made to Mr Manafort for work he did for the pro-Russian Party of the Regions, which backed Mr Yanukovych.
"This is quite a typical scheme to hide the nature of money using jurisdictions like Kyrgyzstan, because it's in the middle of nowhere (and) it's almost impossible to investigate there," he said.
"I think it was an international fraud scheme and my sources in the Party of Regions say Kyrgyzstan was regularly used as a jurisdiction for money-laundering.''
What is Mr Manafort's response?
It is important to note that the documents have not been independently verified.
Mr Manafort's spokesman Jason Maloni said the documents could be forged, suggesting the letterhead and signature did not match, tthe Washington Post quotes him as saying.
He described the allegations as "baseless", saying they should be "summarily dismissed".
How is Paul Manafort connected to the US president?
Mr Manafort joined the Trump campaign in March 2016, and helped to secure the president's nomination for the race. He was promoted to campaign chairperson in June.
But he was forced out in August 2016, when reports emerged that the Ukrainian government had uncovered ledgers pledging more than $12m (£9.2m) in undisclosed cash payments for his work with Mr Yanukovych.
He was replaced by the combination of Stephen Bannon and Kellyanne Conway - both now senior White House staff.
The BBC's Jane O'Brien said at the time that Mr Manafort had been removed mainly due to the campaign's poor performance, rather than the "distraction" of the Ukraine allegations.
He is now under scrutiny for possible contacts with Russia during the US presidential campaign.
On Monday, FBI director James Comey confirmed for the first time that his agency was investigating alleged Russian interference in the election. The same hearing mentioned Mr Manafort's alleged Russian links, though Mr Comey refused to mention individuals.
White House Press Secretary Sean Spicer has sought to distance the campaign from its former chairman, saying he played a "limited role for a limited time".
Twitter users quickly ridiculed that suggestion, creating the hashtag #VeryLimitedRole.
President Yanukovych was ousted during mass street protests in Ukraine in 2014.