Supreme Court pick Gorsuch says Trump not above law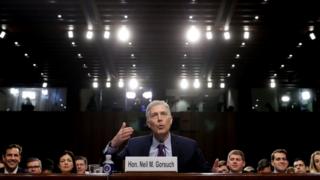 Donald Trump's pick for the vacant seat on the Supreme Court has insisted that no-one, including the president who nominated him, is above the law.
Neil Gorsuch also told his Senate confirmation hearing that no-one had asked him to make any promises on how he would rule.
He said he would have "walked out" if Mr Trump had asked him to overturn the landmark Roe v Wade abortion ruling.
Mr Gorsuch also called Trump's attacks on federal judges "disheartening".
In February, the president called a judge who halted his controversial travel ban a "so-called judge", and Mr Gorsuch privately told senators that this implied any terror attacks on US soil would be his fault.
At the time, Mr Gorsuch said privately to lawmakers this attack by the president was "disheartening and demoralising" and repeated those words in Tuesday's hearing.
"When anyone criticises the honesty or the integrity or the motives of a federal judge, I find that disheartening. I find that demoralising - because I know the truth," he said.
Asked if that included the president, he answered: "Anyone is anyone."
White House Press Secretary Sean Spicer later tweeted that Mr Gorsuch was "speaking broadly" and had not mentioned anyone by name.
During his first day of questions in the confirmation hearing, the Colorado judge was rarely wrong-footed.
Despite attempts by Democrats to press him on hot-button issues, he repeatedly said it would be wrong to say how he would rule on any given case.
That would be the "beginning of the end" of an independent judiciary, he said.
Mr Gorsuch, nominated for the seat vacated by the death of Justice Antonin Scalia 13 months ago, is facing two days of intense grilling in the Senate Judicial Committee.
---
More on this story
---
Mr Gorsuch said on several occasions "no-one is above the law", including when asked whether Mr Trump could be prosecuted if he reinstated illegal interrogation techniques such as the now-banned water-boarding.
Ranking Democrat Dianne Feinstein asked whether the landmark 1973 ruling Roe v Wade, which legalised abortion, should be protected as a "super precedent" - a ruling so ingrained in law it is hard to overturn.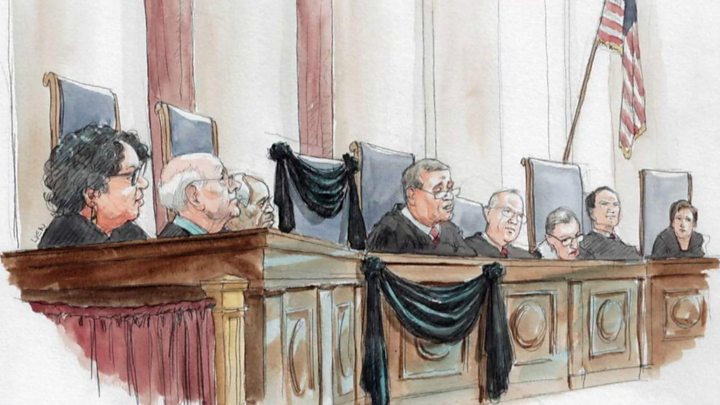 Mr Gorsuch acknowledged the case was a reaffirmed precedent, but added: "I'm not in a position to tell you whether I personally like or dislike a precedent. That's not relevant to my job."
Currently a judge on the Denver-based 10th US Circuit Court of Appeals, he told Senator Lindsey Graham that he had not met Mr Trump before his interview for the post.
Mr Graham asked if Mr Trump had called on him in the interview to overturn Roe v Wade. Mr Gorsuch said "No", and that if he had done so, "I would have walked out of the door."
Mr Gorsuch gave little away and sidestepped any contentious statements, even dodging a question on whether cameras should be allowed in the Supreme Court.
At one point, under withering questioning from Sheldon Whitehouse, his sure-footedness flagged and he admitted: "There's a lot about the confirmation process today I regret... I regret putting my family through this."
What were the other main areas of questioning?
Employee rights: Democrats targeted Mr Gorsuch's dissenting opinion supporting a transportation firm that sacked a driver for defying an order to stay in a freezing, broken-down lorry. He said the case was "one of those you take home at night" but insisted he had applied the law
Trump's travel ban: Reminded of one congressman who said it would be good to have him on the court to back the ban on people from six mainly Muslim nations, Mr Gorsuch said: "A lot of people say a lot of silly things." He said no-one could know how he would rule
Dark money: Tough questioning from Senator Whitehouse about a $10m campaign funded by "dark money" - cash from unnamed sources - backing Mr Gorsuch's nomination. Appearing agitated, he said he knew of the campaign but did not know those sourcing it
Originalism: Or using the Constitution as it was written to interpret laws today. Mr Gorsuch said he did not want to return to a time of "quills and buggies" but insisted the Constitution was "a lot bigger than any of us. It doesn't change, we have to apply the Constitution in light of our current circumstances"
Limited options
It remains unclear whether Democrats will try to block Mr Gorsuch's confirmation.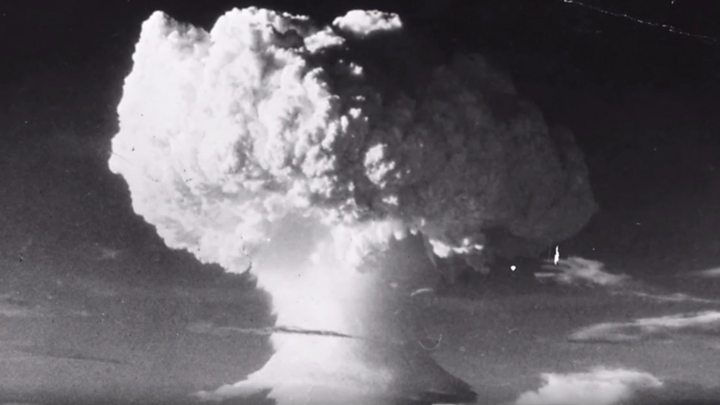 If they do, their options are limited.
Republicans control the Senate and they can change the chamber's rules to make it easier to confirm Mr Gorsuch if any attempt is made to block him.
Majority leader Mitch McConnell said on Tuesday that the full Senate would vote on Judge Gorsuch before Congress left for recess on 7 April.
---
How does the process work?
Monday: Each of the 20 committee members reads a 10-minute statement, followed by Mr Gorsuch
Tuesday-Wednesday: Each committee member grills Mr Gorsuch on a range of political and legal issues
Thursday: Outside witnesses testify for or against the nomination
Committee vote: Members report the nomination to the full Senate, favourably, unfavourably or without recommendation
Senate procedural vote: Republicans have a 52-48 majority in the Senate but Democrats can push to raise the required threshold to 60 votes. If they do, Republicans can use the so-called "nuclear option" to change the rules to allow a lower vote threshold
Senate full vote: Will be a simple majority, if the above procedural hurdles are overcome