Trump health bill: Winners and losers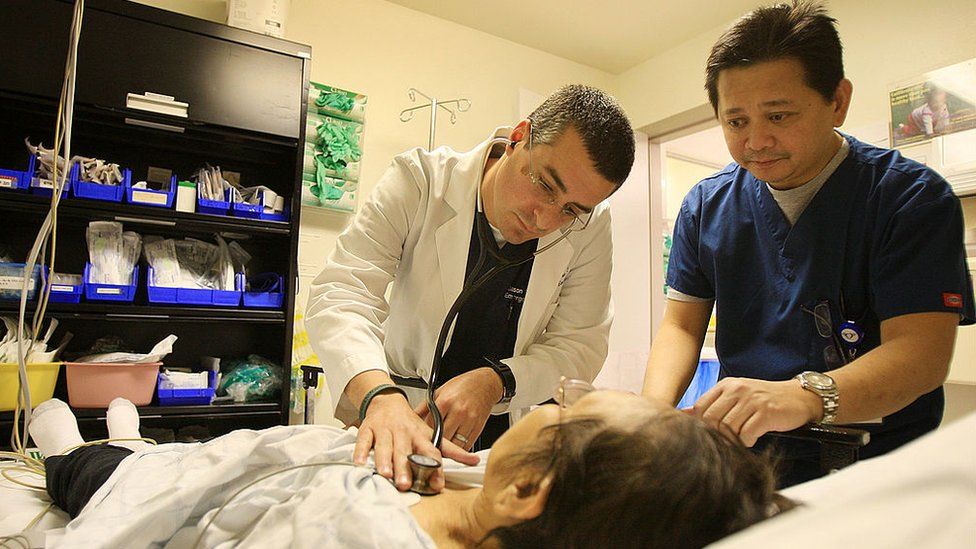 The Republican health care bill, known as the American Health Care Act (AHCA), has been passed by the House of Representatives.
Both the Affordable Care Act (ACA), former President Barack Obama's signature health law known as Obamacare, and the new plan include tax credits to help people buy insurance. But Mr Obama's law and its proposed replacement calculate those credits differently.
Obamacare used family income, local cost of health insurance, age and smoking status to determine financial aid.
The new plan championed by President Donald Trump bases tax credits primarily on age, which begins phasing out for individuals who earn more than $75,000 per year ($150,000 for a married couple).
So who wins and who loses under the new proposal?
Young: Young Americans would probably see their premiums drop under the Republican plan. Policy holders between the ages of 20 and 29 are expected to save on average anywhere from $700 to $4,000 a year, according to a study by the Milliman actuarial firm, on behalf of the AARP Public Policy Institute. Policy holders under the age of 30 would also receive a refundable tax credit of up to $2,000 to alleviate the cost of their premiums, as long as they did not earn more than $215,000.
Rich: Those earning higher salaries stand to benefit the most from the Republican bill, which lifts two taxes levied on the wealthy under Obamacare. In fact, single filers making as much as $115,000 will benefit from a tax credit in 2020, according to a recent Kaiser Family Foundation report. Under Obamacare, a person could only earn up to $50,000 and still receive a subsidy in 2020. Under the Republican plan, the top 1% - those earning more than $699,000 annually - would enjoy an average tax cut of $33,000, according to the non-partisan Tax Policy Center.
Urban: Healthcare coverage costs tend to be lower in urban areas, where there are more hospitals and insurers available. Obamacare tax credits are adjusted not only by family income, but cost of local healthcare, which varies from place to place. But the new plan removes those geographic cost offsets, which could mean city-dwellers benefit from better access to physicians and state public-health infrastructure.
Old: Older adults, specifically Americans in their 50s and 60s, are likely to pay more under the new system, even though they would receive larger tax credits. That's because the Republican proposal allows older adults to be charged as much as five times more than younger policy holders. Under the ACA, older adults were only allowed to be charged up to three times as much as younger enrolees. AARP sent a letter to Congress warning that under the new proposal, an estimated 3.2 million adults aged 55 to 64 who buy coverage on the marketplace could see premium and cost-sharing increases of $3,600 more per year.
Poor: The new plan would roll back much of the provisions put in place to protect low-wage earners under Obamacare. It would mean significantly higher premiums and reduced tax credits for middle and low-income earners. It would end the expansion of Medicaid, which covers low-income people, and overhaul the entire programme. States would be sent a fixed amount of money per Medicaid enrolee, also called a "per-capita cap". The additional federal funding that covered expanding Medicaid would be eliminated by 2020, leaving states to bear the responsibility of making up the difference in money. States could then reduce eligibility or cut provider payments. Enrolees making around $20,000 a year at any age would be hit the hardest, according to Kaiser.
Rural: Another group that would lose under AHCA is people living in rural areas, where the cost of coverage tends to be higher due to fewer hospitals and insurers. Research shows that health insurance premiums are typically more costly in rural counties and states. Rural residents also rely more heavily on public insurance than those living in cities. While Obamacare took local healthcare costs into consideration, tax credits under the Republican plan are the same as in states like Alaska and New York. If premiums grow faster than inflation over time, the proposed tax credits will grow more slowly than those under Obamacare, according to Kaiser. Medicaid cuts could also be harmful to rural hospitals, which are already struggling to keep their doors open.
Chronically sick: The new Republican bill maintains Obamacare's ban on insurers denying coverage to sick people, but an amendment to it allows the companies to charge as much as they want for such policies. Some Republicans opposed their own party in the vote because they agreed with Democrats that people with so-called pre-existing conditions could face higher costs. We await to hear what the Congressional Budget Office says about the effect on people with chronic illness.
More on the Republican health care bill