Quebec police crack down on jiu-jitsu, kickboxing tournaments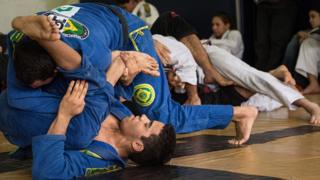 Montreal police are cracking down on combat sports like Brazilian jiu-jitsu and kickboxing, despite organisers insisting the sports are legal.
The Canadian Brazilian jiu-jitsu championship was postponed Sunday after Montreal police threatened to arrest participants.
Police say the event violates a section of Canadian law that forbids sports containing strikes and kicks.
They also cancelled a kickboxing tournament scheduled for the same day.
The Canada Pro Jiu-Jitsu Championships was organised by the UAE Jiu-Jitsu Federation and the International Brazilian Jiu-Jitsu Federation, and was supposed to feature more than 200 competitors from around the world.
Organisers say police contacted them Friday to convey that event was illegal, and that any participant could be arrested. They've rescheduled the event for 5 March, at another, undisclosed, venue.
The championship has been held in Montreal for nine years, said Guy Mondreuil, who runs a Brazilian jiu-jitsu studio in Quebec City.
This is the first time he has heard of police cracking down on a Brazilian jiu-jitsu event.
"I don't know what's going on," Mr Mondreuil told the BBC. "It's not a good thing."
Montreal police also cancelled a separate kickboxing event scheduled for the same day.
A spokesperson from Montreal's police force, Service de Police de la Ville de Montreal (SPVM) told the BBC that police received a complaint about both events, and were legally required to shut them down.
According to section 83 of the Criminal Code of Canada, sports that contain "an encounter or fight with fists, hands or feet" are illegal, unless they are part of the International Olympic Committee programme. Neither kickboxing nor Brazilian jiu-jitsu are part of the Olympics.
But Albertho Mercedat, an organiser of the kickboxing event, says kickboxing is legal in Quebec, and the police have it wrong.
"The SPVM continues to claim arbitrarily that kick-boxing is an illegal combat sport on its territory," , he wrote on Facebook,
He said the event will be rescheduled for later in July, an that he is "convinced that the SPVM will positively change its position soon."
The law banning combat sports outside the IOC was updated in 2013 to also allow provinces to regulate sports themselves, which paved the way for amateur mixed-martial arts (MMA) tournaments and Ultimate Fighting Championship events, including in Quebec.
Organisers of the Canadian Brazilian jiu-jitsu championship say Brazilian jiu-jitsu should not be affected by section 83 at all, because it does not feature strikes by hands, fist, or feet. Instead, Brazilian jiu-jitsu focuses on grappling and ground fighting, where practitioners try and place their opponents in choke or joint holds.
They say police may be confusing their sport with the Japanese form of jiu-jitsu, which does include strikes.