Trump launches stinging attack on media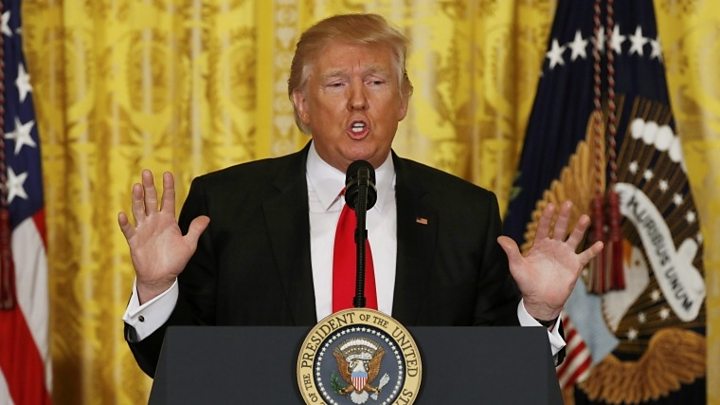 US President Donald Trump has launched a ferocious attack on the media while defending his record during his first weeks in office.
Mr Trump appeared in a 76-minute press conference where he told reporters their level of dishonesty was out of control.
He cited coverage of his campaign's alleged contacts with Moscow.
Critics say his stymied travel ban and the firing of a top adviser point to a White House in chaos.
But the president used his speech to tout his fulfilment of campaign promises, and said his administration was a "fine-tuned machine".
An event that began with Mr Trump announcing his new choice for labour secretary escalated into a blistering attack on the media.
He charged them with downplaying his achievements after he "inherited a mess at home and abroad".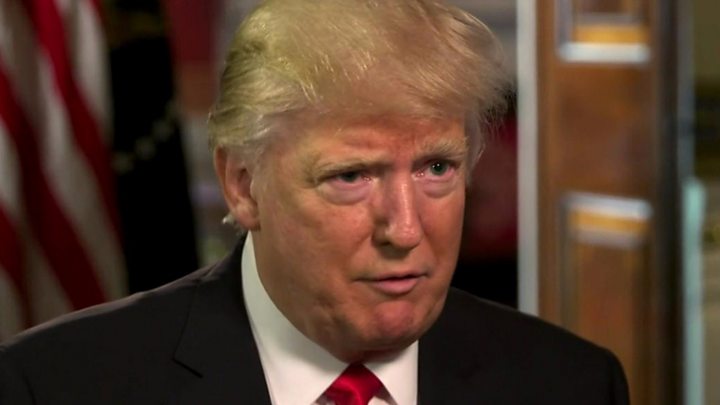 He praised his administration for its "significant progress", pointing to a rising stock market and a crackdown on illegal immigrants as examples of his success.
His news conference at the White House comes after Mr Trump's national security adviser was forced to resign and his labour secretary withdrew his nomination.
Michael Flynn, Mr Trump's national security adviser, resigned on Monday after he misled the Vice-President Mike Pence about whether he discussed US sanctions with Russia's ambassador before his own appointment.
If the allegations are true, he would violate a law barring private citizens from conducting US diplomacy.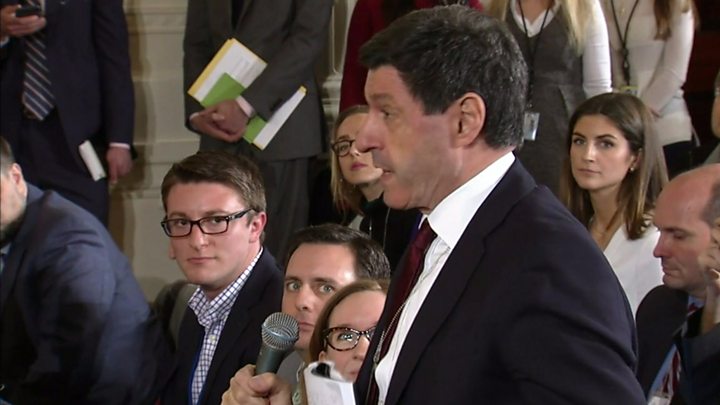 When pressed about claims made in the US media that his campaign staff had been in contact with Russian officials during the campaign, Mr Trump replied "nobody that I know of" had done so.
"Russia is fake news. This is fake news put out by the media," he added.
There are cross-party calls for a congressional investigation already looking into Russia's alleged interference in the election to be expanded to include the Michael Flynn affair.
Analysis - Anthony Zurcher, BBC News North America Reporter
At one point during his marathon press conference, Donald Trump told reporters how he won the presidency.
"With news conferences and speeches," the president said.
It looks like Mr Trump plans on trying to breathe new life into that winning formula.
He has a big campaign-style rally scheduled for Florida on Saturday, and his news conference on Thursday afternoon was classic campaign-era Trump. He was at turns combative, humorous, defensive and jovial. The president often veered into unfathomable tangents before, at last, settling down into familiar lines and patterns.
He boasted about his electoral win, refused to go into details on any of his foreign policy plans, condemned his media critics, shrugged off fact-checkers and promised nothing but winning results.
The Trump administration has been on its heels of late, facing growing criticism over Michael Flynn's actions before and after becoming national security adviser, an immigration action that has been frozen by the courts and a labour nominee who saw his Senate support evaporate.
Perhaps this is phase one of the Trump presidential reboot - letting Trump be Trump. It's unconventional, but by now that shouldn't be surprising.
Read more of Anthony's takeaway
An NBC reporter challenged Mr Trump's false claim that he won the electoral college by the biggest margin since Ronald Reagan.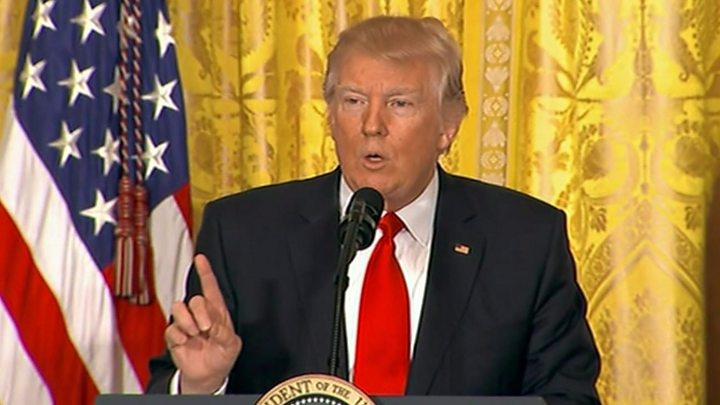 The president answered, simply: "I was given that information."
Mr Trump also raised eyebrows with a comment to an African-American journalist when she asked whether he planned to include the Congressional Black Caucus (CBC) in developing his agenda.
The president asked April Ryan if the black lawmakers are "friends of yours", adding: "I tell you what, do you want to set up the meeting?"
Members of the CBC later expressed dismay at the remark.
Mr Trump returned to criticism of the media throughout Thursday's exchange with reporters, but contended he was "having a good time".
"Tomorrow, they will say, 'Donald Trump rants and raves at the press.' I'm not ranting and raving," he declared.
"I'm just telling you. You know, you're dishonest people. But I'm not ranting and raving. I love this."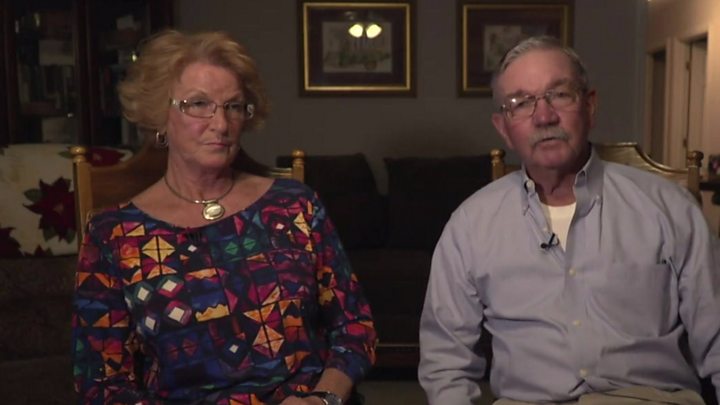 Mr Trump also suggested he would replace his controversial executive order temporarily barring travel from seven Muslim-majority countries next week with a new, revised order.
He said the rollout of the travel ban was "very smooth" despite legal challenges his administration has faced, and chaos at airports when hundreds of protesters voiced their disapproval.
Court documents released on Thursday also showed Mr Trump plans to rescind and replace the travel ban instead of having a larger appellate panel review the ruling.
A three-judge panel of the 9th Circuit last week upheld a lower-court decision that suspended the ban.