Melania Trump 'hooker' remark: NYT reporter apologises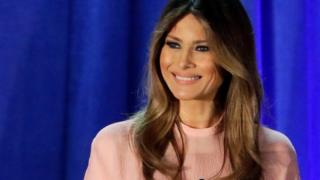 A reporter for the New York Times who was reprimanded for referring to US First Lady Melania Trump as a "hooker" has identified himself and apologised.
Jacob Bernstein said his remark was "stupid" and based on "unfounded rumours". The NYT said the remark was "inappropriate".
The comment was made public after actress and model Emily Ratajkowski shared it on Twitter.
Mrs Trump then tweeted in praise of women who stand up for women.
Bernstein, who is a features writer for the newspaper, wrote a series of tweets in which he took ownership of the remark.
In a statement, the NYT did not identify the reporter, but condemned the comments.
"At a party last night, a Times reporter who does not cover Washington or politics referred to an unfounded rumour regarding Melania Trump," it said.
"The comment was not intended to be public, but it was nonetheless completely inappropriate and should not have occurred. Editors have talked to the reporter in question about the lapse."
On Monday, Ms Ratajkowski, who danced in Robin Thicke's controversial Blurred Lines video, criticised the reporter for the remarks, without identifying him.
Without mentioning the case, the first lady also took to Twitter to praise the actress.
Earlier this month, Mrs Trump re-filed a legal case against UK newspaper Daily Mail over allegations that she once worked as an escort. The paper later retracted the article.
The first lady is seeking damages of $150m (£120m).