Oroville Dam risk: Evacuated not allowed home immediately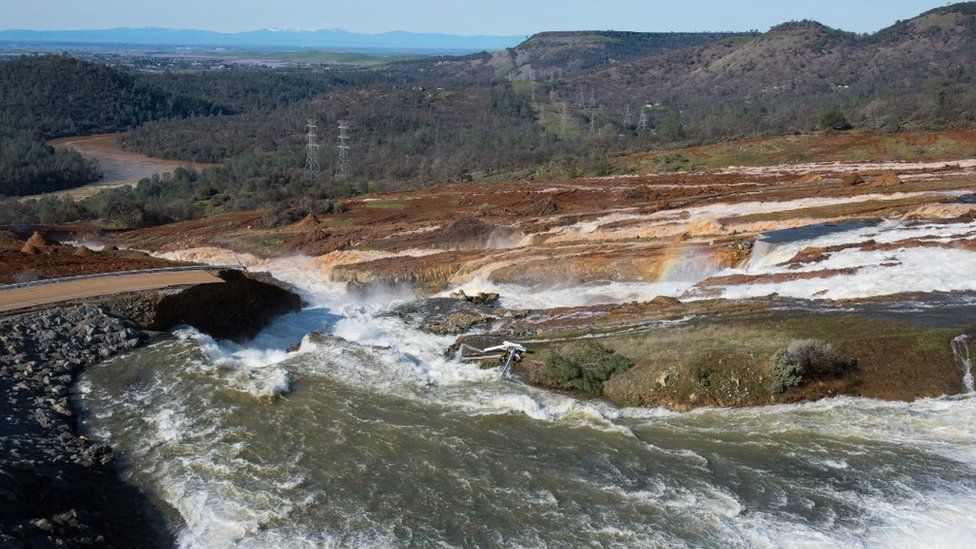 Residents evacuated from underneath the US's highest dam will not be allowed to return to their homes immediately, the sheriff of a local county has said.
More than 180,000 people were ordered to leave the area downstream of the Oroville Dam on Sunday.
Their homes were in danger of being engulfed in a wall of water after the 770ft (230m) high dam's spillways were found to be damaged.
Authorities have now managed to lower the water level in the dam.
Butte County Sheriff Kory Honea told a news conference on Monday that plans were being put in place to allow people to return home when it was safe.
But he conceded repairs might be needed before that was the case. He did not say how long this might take.
The evacuation was ordered after authorities realised both the spillway and its emergency counterpart were damaged and unable to cope with a deluge of rain and snow.
Officials had been telling residents for days that the damage was nothing to be concerned about, but then late on Sunday told nearly 200,000 people to get out in an hour.
Despite this, acting Water Resources director Bill Croyle said he was "not sure anything went wrong" on the damaged spillway.
The California Department of Water Resources was releasing as much as 100,000 cubic feet (2,830 cubic metres) of water per second from the main spillway to try to lower the lake's level and relieve the pressure on the spillway.
More rain is forecast for Wednesday and Thursday, leading to some concern about whether or not the damaged spillway can withstand the pressure.
Mr Croyle said he expected the storms to be smaller, adding that more water was currently leaving the lake than entering it.
It is the first time that Lake Oroville, which lies 65 miles (105km) north of Sacramento, has experienced such an emergency in the dam's near 50-year history.
The dam's main spillway, also known as an overflow channel, was found to be damaged after the water rose.
As it rose even higher, the dam's emergency spillway was activated for the first time since its completion in 1968.
However, this secondary slipway was also found to be damaged, and engineers warned it could fail within an hour, sending a wall of water crashing down on the towns beneath it.
In a statement posted on social media on Sunday afternoon, Mr Honea ordered residents to evacuate, repeating three times that it was "NOT a drill".
There was gridlock on roads heading out of Oroville, a town of 16,000 people, with some evacuees complaining that they should have been given more warning.
Several hours after the evacuation order, the emergency spillway was still standing, but California Fire Incident commander Kevin Lawson said officials stood by the decision to evacuate residents, rather than risk thousands of lives.
He said if the situation was not dealt with they were looking at "a 30ft wall of water coming out of the lake".
An evacuation unlike any other
It wasn't just the people who needed to be moved out of harm's way - the emergency has prompted a relocation of fish on a scale never before attempted in a flood situation. Downstream from Oroville Lake, workers have transferred five million baby fish at the state-operated Feather River Hatchery for the endangered Chinook salmon.
Deadly amounts of silt, sand and mud are spewing into the ponds. The hatchery raises about eight million salmon a year, or 30% of the $4bn salmon-fishing industry in the state, said Andrew Hughan, spokesman for California Department of Fish and Wildlife. About three million of those fish are still at risk because of the eroding spillway.
With water visibility at zero, dozens of workers have been scooping up the fish, one net at a time, and moving them by truck to a holding pond. One million steelhead trout eggs have had to be left behind and are unlikely to survive in the turbid water.
Do you live in the affected region? Let us know about your experiences. Email haveyoursay@bbc.co.uk with your stories.
Please include a contact number if you are willing to speak to a BBC journalist. You can also contact us in the following ways: