Severe damage after tornadoes batter Louisiana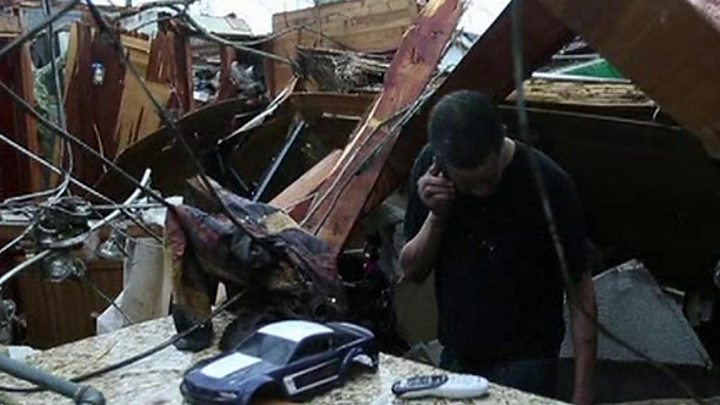 A series of tornadoes have ripped through southeastern Louisiana, injuring about 40 people and causing severe damage to buildings and homes.
The storm left thousands without power, but no deaths were reported, according to Louisiana Governor John Bel Edwards.
One of the tornadoes struck New Orleans, where the worst damage was found in the same 9th Ward that was devastated by 2005's Hurricane Katrina.
The severe weather destroyed homes, flipped cars and toppled power lines.
Nasa's Michoud Assembly Facility in New Orleans also sustained some structural damage but the space equipment built there appeared to have been unharmed, an official said.
A second tornado was reported near the town of Donaldsonville, where thee people suffered minor injuries and several homes and buildings were damaged, according to Ascension Parish Sheriff's spokeswoman Allison Hudson.
A third tornado ripped through the town of Killian, destroying and damaging several homes, Mayor Craig McGehee said. An elderly couple suffered minor injuries there.
"How you manage to get blown completely across the street with cinderblocks flying and no worse than a couple broken limbs - apparently the good Lord was looking after them," he said.
Governor Edwards took an aerial tour to assess the destruction and made a disaster declaration before he met with officials in New Orleans.
The governor said he was heartbroken to see some of the same people who survived Hurricane Katrina suffer again.
Seven parishes were hit by tornadoes on Tuesday, according to Mr Edwards.
"(Hail) rocks were falling on the car, and I was looking out the side door and saw the clouds moving fast," said resident Artie Chaney.
"I heard this sound. We looked up in the air and we could see debris in the distance and before we knew it, it was just barreling down on us," she continued.
"We went through all of Katrina, with no damage. I didn't think I'd be starting over again."
More than 9,300 city residents experienced power outages after the storms on Tuesday, according to power company Entergy.
The Louisiana Red Cross said 6,500 people in New Orleans East alone lost power.
At least seven homes were damaged in Livingston Parish, located just northwest of New Orleans, said Brandi Janes, the deputy emergency preparedness director.
An estimated 2.7 million people in parts of Louisiana were at the highest risk of severe weather, according to the national Storm Prediction Center in Norman, Oklahoma.
The severe weather also brought heavy rain and hail to parts of Mississippi and Alabama.