Rogue Nasa account fights Trump on climate change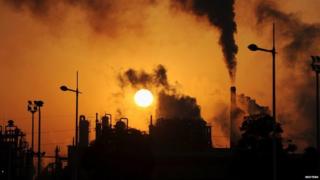 Twitter accounts - some set up by people claiming to work for US government agencies - have sprung up to "resist" President Trump on climate science.
Borrowing the names of organisations like Nasa and the Environmental Protection Agency they are directly attacking the president.
Mr Trump has called climate change a hoax.
The @RogueNASA account says it is the "unofficial 'Resistance' team of NASA".
"Not an official NASA account. Not managed by gov't employees. Come for the facts, stay for the snark," the account declares.
BBC News contacted the rogue Environmental Protection Agency account called @ActualEPAFacts.
They told us they acted to make sure "factual information about climate change and other scientific research continues to be shared during the Trump administration".
They claimed to be three EPA employees and said they acted after a gagging order stopped them from doing interviews relating to their research.
Media reports have suggested that the Trump administration sought to limit how certain government agencies - including the EPA - communicate with the public. The official EPA Twitter account has not posted since 19 January, a day before Mr Trump's inauguration.
ActualEPAFacts told us they were surprised by how many people are now following their account - more than 90,000 currently - but also felt exposed by what they were doing.
The other rogue accounts also have large numbers of followers. More than 370,000 are following @RogueNasa after a handful of tweets in a few days.
The rogue National Park Service account @AltNatParkSer has attracted even more people, with more than a million followers after less than 300 tweets.
There are also rogue accounts for the US Department of Agriculture, Forest Service and Centers for Disease Control and Prevention.
They use similar phrases such as "resistance" to describe themselves and post a mixture of scientific information and attacks on Mr Trump.
Some of those running the other alternative accounts also claimed to be disgruntled government agency workers, at least going by their tweets.
The @AltNatParkSer account tweeted on Tuesday that they were "being run by several active NPS rangers and friends".
However, on Thursday they said they were handing over to a different group of people - activists and journalists who were former scientists.
How did this start?
On Tuesday the official account of Badlands National Park in South Dakota started tweeting about global warming, but those posts were later deleted.
The people behind the @AltNatParkSer told us this inspired them to set up their Twitter account.
The other alternative accounts also appear to have been created after the Badlands tweets were deleted, while some official US national park accounts also tweeted about climate change on Wednesday.
By Nathan Williams, BBC UGC & Social news team