Tennessee woman freed after coat hanger abortion attempt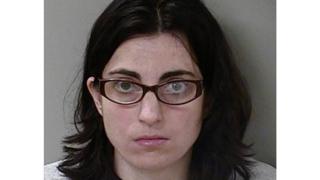 A Tennessee woman who had faced murder charges for trying to end her own pregnancy with a coat hanger has been released from jail.
Anna Yocca, 32, was released on Monday after spending more than a year in jail after the incident, which led to charges of attempted murder.
She was released after pleading guilty to a lesser charge of attempting to procure a miscarriage.
The 2015 attempt led to complaints about access from pro-choice groups.
Tennessee is one of the US states where no abortion provider offers the procedure after the foetus reaches 16 weeks.
Under state law, the medical procedure must be performed by a licensed doctor, and a 48-hour waiting period is required.
Yocca's child survived after her husband rushed her to the hospital when she began to bleed.
The baby boy, who was born at 24 weeks, will require life-long medical attention, sheriff officials say.
Strict Texas abortion law struck down