Minnesota football team boycotts games over sexual assault case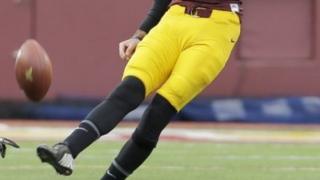 Minnesota's university football team have said they will be boycotting games after the suspension of 10 players over an alleged sexual assault case.
All the team members say they will continue their protest until the school gets satisfactory answers on the issue.
The university suspended the players this week after an internal inquiry without providing any reasons.
Police earlier declined to arrest or charge any of the players over claims a woman was assaulted in September.
The woman has told police she was drunk when she was assaulted by several men at an off-campus apartment.
Some of the players have said that they had consensual sex with her.
The Minnesota team now say they are not ruling out missing the Holiday Bowl on 27 December against Washington State.