Toronto boy planned attack on massacre anniversary - police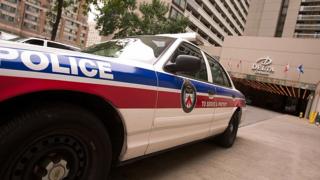 A Canadian teenager has been charged with planning to attack a school on the 27th anniversary of a massacre at a Montreal college.
The 17-year-old Toronto boy, who cannot be named because he is a minor, was charged with uttering threats of bodily harm and death.
Toronto police said they seized a machete, a hatchet, two swords, four knives, and arrows from him.
They said they became aware of a "potential threat" last week.
The boy was allegedly plotting "some sort of attack" against Oakwood Collegiate Institute, a public high school in Toronto, on 6 December.
This date has been infamous in Canada since 6 December 1989, when gunman Marc Lepine stormed the Ecole Polytechnique engineering school in Montreal and killed 14 women.
Lepine claimed he was "fighting feminism".
The massacre is marked every year with remembrance ceremonies across Canada.