Florida boy calls emergency number to invite police to Thanksgiving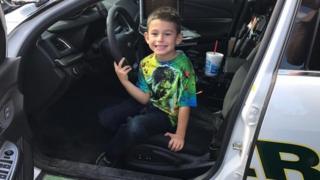 Emergency call dispatchers in northern Florida received a call from a young boy inviting police to his family's Thanksgiving dinner.
Walton County Sheriff Michael Adkinson said the call on Thursday from young Billy had "melted all [our] hearts".
"While we do not encourage this use of 911... we are so honoured at the invitation," Mr Adkinson said in a Facebook post.
Thanks to his phone call, two sheriffs paid Billy "a special visit".
The officers also brought him a sheriff's badge and allowed him sit in their patrol car.
A spokeswoman for the sheriff's office, Monica Webster, said: "With all the bad calls we take on a daily basis this one was a welcomed happy call that made all of us smile,"
Mr Adkinson thanked Billy for "making all of our days here" saying the gesture reminded him to "love what matters".
---
You might also like to read:
Minister's bullet-proof bathroom mocked
Watchdog cans Heinz beans advert
Texas diner gives waiter $750 to visit family
---