Remembrance Day matters for Afghanistan veterans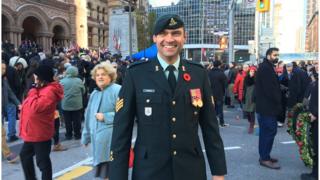 Sgt Bojan Joksimovic says Remembrance Day is the hardest day of the year for him, but it is also the most rewarding.
At a ceremony marking the event in downtown Toronto, he says the meaning of the day didn't resonate with him until he served three tours in Afghanistan.
"It didn't really hit me personally until I lost my friends," he said.
Sgt Joksimovic has was what one might call presence.
He is humble and well spoken, open with his thoughts but careful with his words.
Civilians with poppy brooches and winter hats were drawn to to his green officer's uniform like moths to a flame. "Thank you for your service," they said, one after another as they shook his hand and asked for a photo.
He says that when he was a child in Bosnia during the war, he met Canadian soldiers who inspired him to enlist.
"When I was a refugee I basically felt naked," he said. "But now that I'm in uniform, I love to help people who cannot help themselves."
He says that his experience as a refugee continues to inform his sense of duty, as Canada welcomes thousands of refugees from Syria.
"They come here and they trust us," he said.
While Sgt Joksimovic survived Afghanistan physically unscathed, he returned to Canada in 2009 with post-traumatic stress disorder (PTSD), something he said he and other veterans battle every day.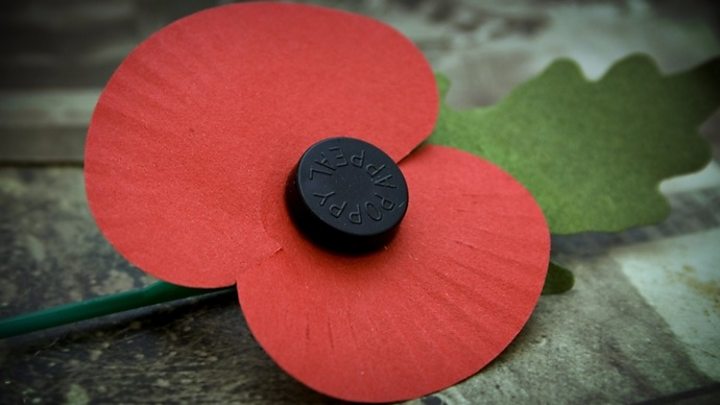 A recent investigation by the Globe and Mail newspaper found that 31 Afghanistan war veterans have killed themselves since returning home, and that the Canadian Armed Forces have struggled to cope with the numbers of soldiers returning home with mental-health needs.
"It's an invisible wound," Sgt Joksimovic said. "It's especially hard from a soldier's point of view because you don't want to be seen as weak."
Now as an officer at a training base, Sgt Joksimovic says he's careful to talk openly about his struggles, ask for help from his fellow soldiers and give help when they need it too. He's also taken up sport, and competed in the 2016 Invictus Games in Orlando, Florida in track and field. Although he didn't win any medals, he says he loved representing Team Canada off the battlefield, and competing with other disabled veterans.
He hopes to compete again in 2017, when Toronto hosts the Games.
"You know that they survived and they're still living the life they want to," he said.