Drake surprises wedding guests in Windsor, Ontario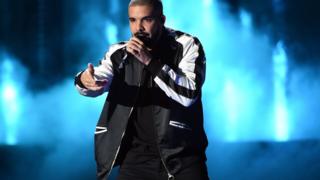 All eyes are typically on the bride at a wedding, but when Drake is one of the guests, it's hard not to pull focus.
The rapper caused a commotion when he attended the wedding of Mike Caruana and Dayna Drago in Windsor, Ontario on Saturday night.
"Drake was just in Caboto I was 3 feet away from him is life even real right now," tweeted Jess Rindlisbacher.
Ms Rindlisbacher is a waitress at the Cabato Club, which hosted the reception.
Wedding guest Deborah Dufault told the Windsor Star that Drake had been invited to the 400-person affair on on Saturday night by the groom, but no one expected him to come.
"The talk was he wasn't coming," she said. "Then he just showed up."
Kaitlyn Matthew, a cousin of the bride, told the BBC that the Canadian rapper was a regular at Sotto Sotto, a high-end Italian restaurant in Toronto where Caruana works, and that Drake's appearance was a "magical moment" for the happy couple on their wedding day.
Drake reportedly showed up around 11 pm and stayed for about an hour. Guests and venue staff snapped pictures and videos of the superstar, who seemed relaxed in the back corner of the hall.
"His body guards started to block people from getting too close," Ms Matthew said.
The rapper - who wore an all-black suit and gold chain to the formal event - even took the bride by the hand and led her onto the dance floor. The superstar chatted with the wedding party in a private room during the evening, and shut down the bar so that he could enjoy a drink without the flash of cameras.
After the wedding, Drake had dinner at Spago restaurant, also in Windsor, where the groom had once worked.
"He was a gentleman and we enjoyed his company. He just wanted to enjoy a nice dinner. But no doubt about it, to have him at our restaurant was nice, for sure," Spago co-owner Peter Vitti told the Windsor Star.
But while his dinner may have been peaceful, about 200 fans were waiting for him outside the restaurant at 2 am, the newspaper reported.