Hurricane Matthew unearths civil war cannonballs on US beach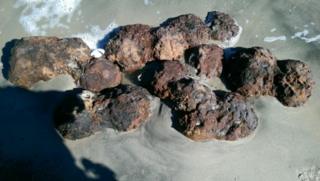 Hurricane Matthew, the most powerful storm to make US landfall in more than a decade, has unearthed civil war cannonballs on a beach in South Carolina, officials say.
A bomb squad was called after the historic ammunition was uncovered on Folly Beach on Sunday.
Residents nearby were warned that they might hear a small boom as the area is made safe.
The first shots of the civil war were fired at nearby Fort Sumter in 1861.
The cannonballs could not immediately be reached because of rising tides but operatives will get to work when the ocean level drops, Charleston County Sheriff spokesman Eric Watson said.
Thousands of people were evacuated from their homes when Hurricane Matthew approached America's east coast last week.
The storm brought heavy flooding to the historic city of Charleston, South Carolina.
Meanwhile, a bald eagle became wedged in the grille of a vehicle in Florida during the storm.
A photo taken by Clay County Sheriff's Office near Green Cove Springs shows the stuck bird.
The eagle was noticed by a passing motorist and freed unharmed.