Giant Putin banner appears on New York's Manhattan Bridge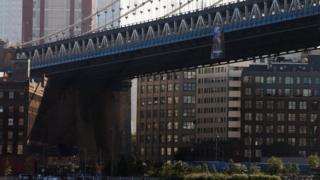 A large banner with a photograph of Russian President Vladimir Putin and the word "peacemaker" was hung from Manhattan Bridge on Thursday.
It showed the Russian leader in front of his country's flag when it was unfurled on the New York landmark which connects Manhattan to Brooklyn.
Photos of the mysterious banner quickly began trending on social media.
Police officers removed it a short time later, and are investigating. There have been no arrests.
Tensions between the Washington and Moscow have remained high in recent months.
Russia has been accused of meddling in the US presidential election, after the Democratic Party suffered a wave of cyber attacks.
A ceasefire deal in Syria brokered by both countries collapsed last month, and the US halted talks with Russia on trying to co-ordinate air strikes against jihadists earlier this week.