US election: Pence 'won' - but debate hadn't started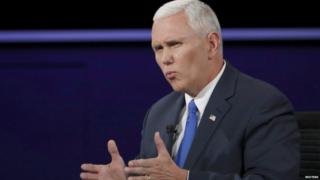 The Republican Party called Mike Pence the "clear winner" of the vice-presidential debate but there was just one problem - it hadn't started yet.
In what appeared to be a prematurely published post, the party said there was "consensus" its candidate had emerged victorious.
Pence's top moments from the debate, it said, were "economy" and "highlighting Hillary's scandals".
The post drew fire on Twitter and was quickly taken down.
"Too early, you guys", tweeted Matt Vasilogambros of The Atlantic.
The BBC's Anthony Zurcher, meanwhile, praised the party's prescience.
The post - and another declaring Hillary Clinton the "biggest loser" of the VP debate - was removed and the link now goes to an audience poll.
Preparing statements in advance is not unusual in the communications field, but publishing them prematurely is - and some saw the humour.
Once the debate had actually taken place, initial analysis suggested Mr Pence was seen as the better performer, after his calm demeanour drew praise.