Ex-Apprentice insiders blast Trump's 'sexist' remarks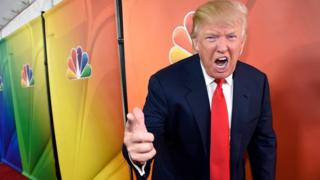 Republican presidential candidate Donald Trump has been accused by ex-contestants and staff on reality show The Apprentice of sexism, according to an Associated Press investigation.
More than 20 people interviewed described Mr Trump's behaviour toward women as crass and inappropriate.
Mr Trump's campaign dismissed the allegations.
Spokeswoman Hope Hicks said they were "outlandish, unsubstantiated and totally false".
Mr Trump has faced several allegations over the past week questioning his fitness to be president of the US.
On Sunday, the New York Times published evidence which alleged that Mr Trump may not have paid federal income tax for 20 years.
Former contestants and staff of The Apprentice described how Mr Trump frequently discussed the size of women's breasts and who he would like to have sex with on set.
Former producer Katherine Walker said Mr Trump often talked about women's bodies and commented on which female contestants he thought would be good in bed.
Eight former crew members said Mr Trump paid particular attention to a female camerawoman on set who he thought was attractive. Ms Walker said Mr Trump's comments frequently made the camerawoman uncomfortable.
"He said something like she was cute and she had a nice ass, and it was brought to my attention by someone else that he had a crush on her," Ms Walker said.
Some of the show's contestants said Mr Trump did appear professional. But a former crew member said Mr Trump's lewd comments were made on camera and later edited out of the show.
"If there was a break in the conversation, he would then look at one of the female cast members, saying 'you're looking kind of hot today, I love that dress on you,' then he would turn to one of the male cast members and say 'wouldn't you sleep with her?' and then everyone would laugh.
"There would be about 10 or 12 cameras rolling and getting that footage, which is why everybody was like, this guy just doesn't care."
Another crew member said that Mr Trump often asked male contestants to rate the attractiveness of their female counterparts. The source described a day where cast and crew were all gathered to decide who to blame for a task.
In the middle of the discussion, Mr Trump allegedly stopped, pointed to a woman and said he would have sex with her.
"Everyone [was] trying to make him stop talking, and the woman [was] shrinking in her seat," the source said.
Denying the allegations, Ms Hicks said: "These outlandish, unsubstantiated and totally false claims fabricated by publicity hungry, opportunistic, disgruntled former employees, have no merit whatsoever."
NBC, which broadcast The Apprentice, a reality show that judges the business skills of contestants, declined to comment.
Last week Alicia Machado, crowned Miss Universe in 1996 accused Mr Trump, who formerly owned the pageant, of calling her Miss Piggy after she gained weight.