Gary Johnson blames an 'Aleppo moment' for not remembering foreign leaders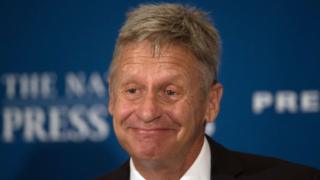 US presidential hopeful Gary Johnson made headlines earlier this year when he asked "What is Aleppo?" in a TV interview with MSNBC.
Now he has failed to name a single acting foreign leader in a TV interview on Wednesday evening, blaming an 'Aleppo moment'.
On Wednesday's broadcast, he is asked: "Who's your favourite foreign leader?"
But Mr Johnson struggles to reply and says: "I guess I'm having an Aleppo moment."
The Aleppo moment has affected his reputation.
Alan Kestrel tweeted: "I can't watch Gary Johnson here without cringing."
"Gary Johnson wants to be the leader of the free world. Can't name any other leaders in the free world," wrote another Twitter user, Aღanda.
But Johnson's excuse for not remembering the names of any foreign leaders could now be adopted by others. Writer David Pomerantz already plans to have an 'Aleppo moment' if a date gets awkward:
And @JoshKotcheff may blame his work issues on an 'Aleppo moment':
---
A guide to what Gary Johnson needs to know
Gary Johnson may have struggled to name a single global leader, but the BBC's Anthony Zurcher is here to help. Here's his guide to where Hillary Clinton and Donald Trump stand on key issues - and how those positions stack up against presidents and prime ministers from around the world. Follow him on Twitter @awzurcher.
---
Compiled by Daniel Avis, BBC's UGC & Social News team