Blast in Bronx 'drug lab' kills New York firefighter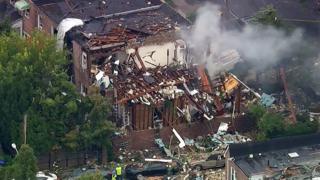 An explosion at a suspected drug lab inside a New York home has killed at least one firefighter, authorities say.
Fire crews were called to the two-storey house in the Bronx to attend to a gas leak shortly after 06:20 local time (10:20 GMT).
Mayor Bill de Blasio named the victim as Battalion Chief Michael Fahy, a 17-year veteran of the fire service.
Fire authorities had said they discovered a suspected drug lab shortly before the large explosion occurred.
The cause of the blast is not yet known.
Of the six people injured, four were police officers.
Police chief James O'Neill said the force had received reports weeks ago that the building was the site of a cannabis factory, and that they were now investigating whether this was linked to the explosion.
Fire department commissioner Daniel Nigro said Mr Fahy, a father of three, was a "rising star" of the department.
Helicopter images broadcast on local news channels showed that much of the house was destroyed in the explosion.
"When it exploded, three blocks away, me and my son were in my apartment and the entire building shook," one man wrote on Instagram.
The New York Daily News said at least 100 firefighters attended the explosion, which occurred in the north of the city.