New York City: At least 29 wounded in 'intentional' explosion
At least 29 people have been injured in an explosion in a crowded district of New York City.
The cause of the blast late on Saturday in Chelsea remains unclear. Mayor Bill de Blasio described it as "intentional" but said that there were no known links to terror.
The force of the blast blew out windows and could be heard several blocks away.
Another device, reportedly a pressure cooker rigged with wires, was later found in the same district.
New York's fire department said that of those injured, 24 were taken to hospital.
One received a puncture wound described as serious, while the rest suffered scrapes and bruises.
The explosion occurred around 21:00 (01:00 GMT on Sunday), outside a residence for blind people on West 23rd St.
Witnesses said people ran in all directions following the "incredibly loud" blast.
Some reports said the blast went off in a black metal construction toolbox, others that it was in a rubbish bin. Several blocks were shut by police but by 07:00 only 23rd St was closed, the New York Times reported.
A police official told the Times: "We don't understand the target or the significance of it. It's by a pile of dumpsters on a random sidewalk."
Mr de Blasio said: "The initial indication is this was an intentional act."
But he added: "We also want to be upfront saying that there is no evidence at this point of a terror connection to this incident."
---
Familiar device - BBC's Dominic Casciani
The second device has been described as a pressure cooker attached to wiring and a mobile phone - and this mode of attack was last seen in the US during the Boston Marathon bombings of 2013.
A pressure cooker device also featured in a failed jihadist plot to attack New York's Times Square in 2010. Extreme right-wing cells have also made them and the instructions are freely passed around on the internet.
The US has a dedicated laboratory where forensic scientists analyse the remains of every significant explosive device the security services recover.
Tiny fragments of a detonated device can be enough to pinpoint how it was made - and potentially who made it. Two years ago the US scientists had a major victory when their painstaking work uncovered evidence that proved that a London taxi driver had made bombs in Iraq that killed a soldier.
---
Law enforcement officials said the device found at the second Chelsea location had been removed safely.
Chelsea is among the most fashionable districts of Manhattan and its bars and restaurants are usually crowded at the weekend.
Those in the area described being rocked by the explosion.
"It was an extremely loud noise, everything was shaking, the windows were shaking, it was crazy,'' said Rudy Alcide, a bouncer at a nightclub nearby.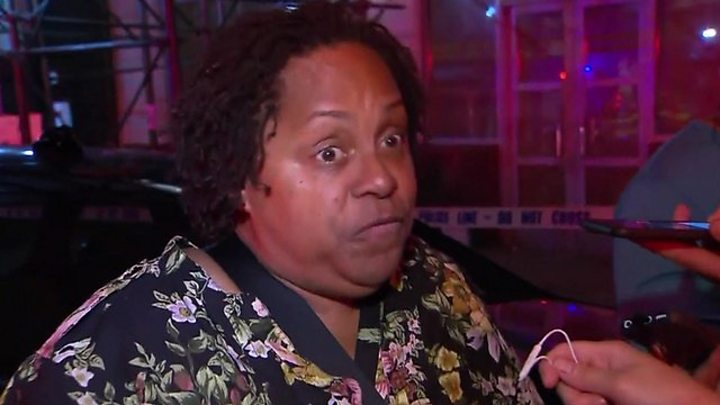 Another local, David McKay, said New Yorkers would remain defiant.
"The city's built upon grit and whoever perpetrated this act of lunacy I would say that their message would fall on very deaf ears."
President Barack Obama is being kept up to date on the investigation, a White House official said.
Democratic presidential nominee Hillary Clinton told reporters she had been in touch with New York officials.
"Obviously we need to do everything we can to support our first responders and pray for the victims," she said.
"I'll have more to say about it when we actually know the facts," she added.
Speaking at a rally in Colorado before police had commented on the cause of the blast, Republican presidential candidate Donald Trump told supporters that a "bomb" had gone off.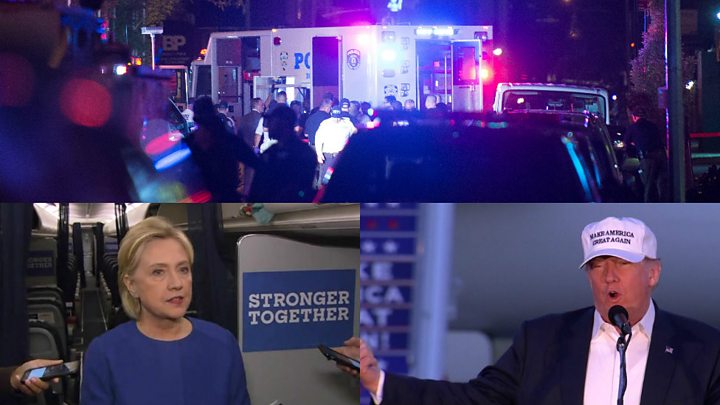 He said: "Nobody knows exactly what's going on, but boy, we are living in a time - we better get very tough, folks."
---
---
The blast came after a pipe bomb explosion in neighbouring New Jersey on Saturday morning along the route of a planned charity race.
No injuries were reported, and Mr de Blasio said there was no evidence yet of a link.
On Tuesday President Obama and other world leaders are due to attend the UN General Assembly in New York.
---
Were you in the area? If it is safe to do so let us know about your experiences. Email haveyoursay@bbc.co.uk with your stories.
Please include a contact number if you are willing to speak to a BBC journalist. You can also contact us in the following ways: