WP Kinsella, whose book became 'Field of Dreams', dies at 81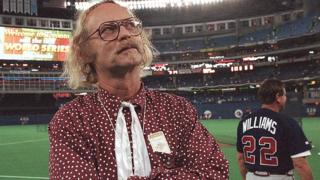 Canadian author WP Kinsella, whose book Shoeless Joe became the hit film Field of Dreams, has died aged 81.
His agent said his death on Friday was doctor-assisted, legal practice in Canada from earlier this year. No other details about his health were given.
Kinsella published more than 30 works spanning poetry, fiction and non-fiction and won the Order of Canada, one of the country's highest honours.
But it is the baseball-themed fantasy Shoeless Joe that he is best known for.
In it, a farmer hears a voice urging him to build a baseball field in the middle of his corn crop. When he does the spirits of great players from the past come to play.
The novel was adapted into 1989 film Field of Dreams, starring Kevin Costner.
After suffering a head injury in car crash, CBC reported, Kinsella said he lost interest in writing fiction and instead spent his time playing Scrabble online.
However he did resume writing and his final work Russian Dolls is due to be released next year.