US storm Hermine: Eastern states brace for heavy rain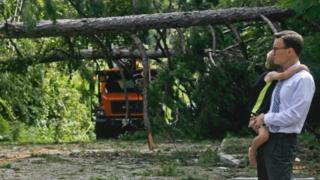 US east coast states are on alert for Tropical Storm Hermine, which is pushing north-eastward as people take time off for the long holiday weekend.
The high winds have left a trail of destruction in the south-east of the US. They are the tail-end of the first hurricane to hit Florida in a decade.
Two people have been killed in Hermine-related incidents, AP news agency said.
The governors of New Jersey, Maryland, Virginia and North Carolina have declared emergencies in some areas.
The moves activate emergency operations plans and give greater powers to state police.
Earlier on Saturday in North Carolina, high winds blew a lorry over, killing the driver. In Florida, a man had died when he was hit by a falling tree.
Hermine is a "storm to take seriously" with "life-threatening water levels along the coast," Eric Blake, a hurricane specialist at the National Hurricane Center, warned.
The storm caused considerable damage on Friday and Saturday morning in Florida and Georgia, cutting off power to hundreds of thousands of homes and businesses.
Hermine remains a threat to Americans who live on the coast between South Carolina and Rhode Island, officials say, and is expected to bring widespread localised flooding.
Storm conditions are expected to reach New York on Sunday.
"Hermine not only threatens to foil weekend getaways at the beach, but has the potential to cause damage in some communities and pose risk to the lives of those who venture in the surf or on the seas," meteorologist Alex Sosnowski told Accuweather.com.
The storm is predicted to gain momentum as it moves north from South Carolina and into the Atlantic on Saturday, possibly reaching near-hurricane strength by late Sunday, the National Hurricane Center said.
The threat of severe weather has led to the cancellation of concerts over the weekend and the closure of beaches in several coastal communities.
The storm has also interrupted the Labor Day weekend plans of thousands of holiday-makers who traditionally visit beaches along the Atlantic seaboard. Florida's tourism industry has been badly affected.
In the town of Cedar Key, waters rose more than 9.5ft (2.9m), among the highest surges ever seen, according to the National Weather Service.
In total about 150,000 households are without power in Florida, Georgia and the Carolinas, utility companies reported on Saturday.
---
Have you been affected by Hurricane Hermine? You can send us your stories along with any photos or videos you have shot by emailing haveyoursay@bbc.co.uk.
Please include a telephone number if you are happy to be contacted by a BBC journalist.
You can also contact us in the following ways: