Tornadoes tear down buildings and cut power in Indiana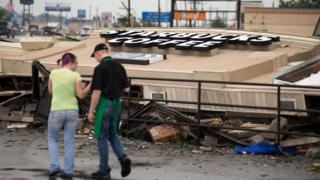 At least two tornadoes have struck the US state of Indiana, damaging buildings and cutting power to thousands of people.
One of the tornadoes struck the town of Kokomo north of Indianapolis, ripping roofs off apartment buildings and destroying a Starbucks cafe.
Local officials warned of a "confirmed large and destructive tornado" and told residents to stay in their homes
There were no immediate reports of injuries.
Local TV and photos posted on social media showed homes with their sides ripped off, a barn reduced to rubble and overturned cars.