Delaware Supreme Court rules death penalty law unconstitutional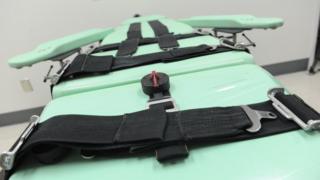 Delaware's Supreme Court has ruled that the state's death penalty is unconstitutional.
The high court said on Tuesday the law violated the role of jury described in the Sixth Amendment of US Constitution.
The Delaware state law gave judges - not juries - the final say to impose a death sentence.
The decision comes after the US Supreme Court ruled in January that a similar death penalty law in Florida was unconstitutional.
The 148-page opinion determined the General Assembly should now decide whether to reinstate the death penalty.
Delaware, Florida and Alabama were the only states that gave judges the final say to issue a death sentence, according to the Death Penalty Information Center.
Delaware is one of 32 states with capital punishment. There are currently 14 people on death row in Delaware and the state held its last execution in 2012.