San Diego policeman shot dead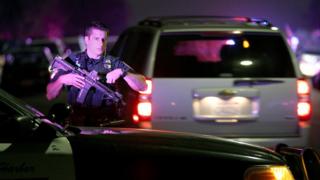 A police officer has died and another remains in hospital after both were shot in the US city of San Diego.
The officers were members of a gang suppression unit and were shot by unknown gunmen at a traffic stop on Thursday evening.
The officer killed was later named as Jonathan DeGuzman. The second officer is expected to survive.
The shooting follows earlier attacks on police this month in the US cities of Dallas and Baton Rouge.
The officer who died was a 16-year veteran and the father of two young children.
The wounded officer was named as Wade Irwin.
An injured suspect was found on Friday in a ravine and has been taken to hospital. Later, police surrounded a home where another suspect was believed to be holed up.
San Diego's mayor, Kevin Faulconer, said: "Violence against the men and women who wear the badge is violence against us all. I ask all San Diegans and all people across our nation to join together in support of our officers who courageously protect our communities. We need them and they need us."
Donald Trump, the Republican presidential nominee whose campaign includes a vow to "make America safe again" tweeted about the incident, saying: "It is only getting worse. People want LAW AND ORDER!"
America and the psychology of fear