Marijuana chemical contaminates Colorado town's water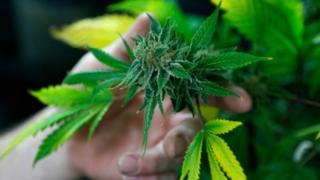 Residents of a small town in the US state of Colorado have been told not to drink tap water after THC, the psychoactive chemical in marijuana, was found in one of the area's wells.
The sheriff's office said the well near Hugo, about 90 miles south-east of Denver, may have been tampered with.
It said it was not clear whether the water had been deliberately tainted.
Medical and recreational use of marijuana is legal in Colorado but there are no legal farms near Hugo.
Officials said the contamination came to light when a company that carries out employee drug tests sampled the tap water, assuming it would test negative, and was surprised when the result was positive.
The presence of THC was later confirmed in field tests; more detailed laboratory tests are now taking place.
The Lincoln County sheriff's office said on Twitter, citing public health officials: "It is safe to shower, bathe, and washing [sic] clothing! We ask that you do not ingest the water."
There were no reports of any residents experiencing symptoms, but the Colorado department of public health warned of the possibility of "impaired coordination and thinking" if THC-contaminated water was swallowed.
Bottled water will be distributed later, while the supply network is flushed with fresh water.
Reuters news agency quoted an owner of a licensed cannabis testing facility in Denver, saying he was sceptical of the reports. "It's virtually impossible to find THC in water in concentrated levels because cannabinoids are not water soluble," Peter Perrone said.