Dani Mathers: Playboy model's locker room photo investigated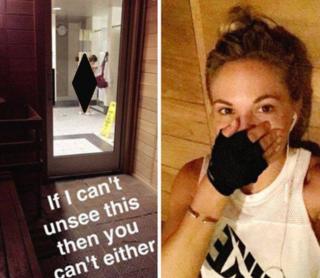 Los Angeles police are investigating after a Playboy model publicly shared a photograph of another woman naked in a gym changing room.
Captioning it "If I can't unsee this then you can't either", Dani Mathers posted the image beside one of herself covering her mouth in mock disgust.
She later apologised, saying she thought her Snapchat post had been a private conversation.
Sharing a person's naked image without their consent is illegal in California.
If found guilty, Ms Mathers could face a fine or a short prison sentence. A sexual assault division of the LA police department is investigating and looking for the woman who was photographed.
Ms Mathers has been permanently banned from the chain of gyms, has lost her job on a radio show, and has faced widespread criticism online.
After deleting the image, Ms Mathers posted an apology on Snapchat in a series of videos, saying her actions had been "absolutely wrong".
"I have chosen to do what I do for a living because I love the female body and I know that body shaming is wrong and that's not what I'm about, it's not the type of person that I am," wrote the model, who was named Playmate of the Year in 2015.