US military dogs awarded 'K-9' bravery medals for Afghan service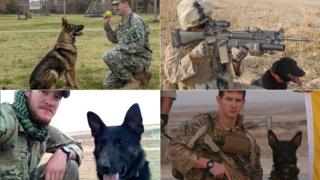 Four dogs who worked with the US military in Afghanistan have been awarded medals for their sacrifice and service to the United States.
The canines were given the K-9 Medal of Courage, and are the first to receive the honour created by welfare group the American Humane Association.
The medals were presented by top commanders at a ceremony at Capitol Hill in Washington.
All four dogs had saved humans' lives by smelling out explosives.
"Soldiers have been relying on these four-footed comrades-in-arms since the beginning of organised warfare and today military dogs are more important than ever in keeping our service men and women safe," said Robin Ganzert from the American Humane Association, which works to promote animal and child welfare and has been working with US military animals for 100 years.
---
Matty, a Czech German Shepherd
Credited with saving the life of his handler, retired officer Brent Grommet, and his unit on several occasions. Used "his superhuman sense of smell" to detect hidden improvised explosive devices (IED)
During one ambush in Afghanistan, the pair raced to clear a helicopter landing zone of IEDs while taking direct mortar fire and went back to the frontline where they were knocked unconscious by a rocket-propelled grenade
The pair were wounded several times and are both retired. Matty now helps Brent "manage the debilitating symptoms of both the visible and invisible wounds of war, bringing him a sense of security, calmness, and comfort"
---
Fieldy, black Labrador retriever
Served four combat tours in Afghanistan
His working to detect explosives saved "an uncounted number of human lives"
After being discharged from the military he was reunited with is former handler US Marine Corps Corporal Nick Caceres to whom he had offered "steadfast companionship, affection, and a sense of normalcy" during seven months in Afghanistan
---
Bond, a Belgian Malinois
Worked more than 50 combat missions, and was deployed to Afghanistan three times.
He put his life at risk every day to keep his Special Operations Unit safe and "the number of lives he saved through his work in enemy apprehension and explosives detection is simply unknown"
Bond suffers from combat trauma, once knocking out his own teeth trying to chew himself out of his kennel during a thunderstorm. He has now been reunited with his former handler and together they are helping each other readjust to civilian life
---
Isky, German Shepherd
Protected top US leaders and general on trip before being deployed to Afghanistan in July 2013, where he saved "uncounted lives while serving as an explosive-detection dog". Also served in the Middle East, finding five IEDs, including a 120lb bomb, and 10 weapon caches
He was injured several times including during a patrol to avoid an ambush when his right leg was injured in six places. The damage was so bad the leg had to be amputated and forced him to retire from active military service, but he does still work as a service dog
"He brought a lot of people home and he brought me home... He's my dog for PTSD (post traumatic stress disorder) now and I feel I help him out a lot... Even though we do get on each others' nerves sometimes," his older handler Army Sergeant Wess Brown told ABC News