US Air Force base put on lockdown due to drill confusion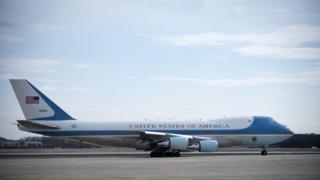 The Andrews Air Force base in Maryland was placed on lockdown due to a misunderstanding during an "active shooter" drill.
A distress call was mistakenly made when someone saw security forces conducting an inspection, the base said in a Facebook post.
A gunman was reported to be in a medical facility on the base.
Joint Base Andrews, home to the president's plane Air Force One, is located in a Washington suburb.
"Fortunately, this was not a life-threatening situation," wrote Colonel Brad Hoagland in the Facebook post.
"We take all threats seriously and reacted to ensure the security of those on the base."
First responders were at the scene and personnel were advised to seek shelter.
Joint Base Andrews was locked down last month after a woman walked onto the base and claimed she had a bomb.
The woman was apprehended and found to have no explosives.