US elections 2016: Clinton trounces Trump in fund-raising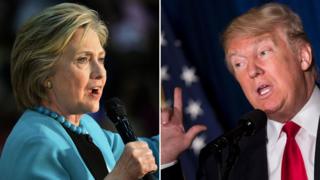 Democratic presidential hopeful Hillary Clinton has a huge advantage in campaign funds over Republican rival Donald Trump, figures show.
Mrs Clinton's campaign began June with $42m (£28m) in the bank; for Mr Trump it was $1.3m.
The businessman has claimed to have self-funded his campaign, portraying himself as an outsider not linked to special interests.
Since securing his party's nomination, fundraising has intensified.
His team have sought to quash concerns about finances, saying money is "pouring in".
His campaign said in a statement regarding May fundraising that it continues to see "a tremendous outpouring of support for Mr Trump and money to the Republican party".
"If need be, there could be unlimited 'cash on hand' as I would put up my own money, as I have already done through the primaries, spending over $50 million dollars. Our campaign is leaner and more efficient, like our government should be," said Mr Trump in the statement.
The latest federal disclosures however show the Republican National Committee, which is likely to pick up any shortfall, began June with about $20m in the bank.
By contrast, four years ago, when Mitt Romney was running for president, the figure stood at about $60m.
In May, donors gave Mr Trump's campaign just over $3m. Mr Trump lent another $2.2m, bringing his total loans over the past year to $46m.
The hashtag #TrumpSoPoor was trending on Twitter on Tuesday, with people poking fun at his cash-strapped campaign.
---
Analysis - Anthony Zurcher, BBC News, Washington
Donald Trump may boast that he runs a multi-billion dollar transnational business enterprise, but his presidential effort so far has been decidedly small-bore.
That didn't stop him from securing the Republican nomination in a crowded field where his outsized personality won him a loyal following among a plurality of voters in a state-by-state battle stretched out over months. In a general election campaign that takes place concurrently across a continent, however, a low-budget strategy that relies heavily on free media may not fly.
Mr Trump's $1.3m war chest isn't enough to run a credible state legislative campaign in some parts of the US. Electoral battlegrounds need staffers with knowledge of key constituencies and multimedia advertising attuned to local interests. The seemingly simple task of planning and producing candidate rallies day after day is a major financial and organisational undertaking. Just one stumble can become a potentially lethal debacle.
Mr Trump has defied forecasts of his political demise for more than a year, of course. His campaign likely has more ups and downs in store. But "money makes the world go round" is a saying he should know well.
---
The advantage will enable Mrs Clinton to take on more staff and launch an onslaught of attack adverts against Mr Trump.
Mr Trump's election team comprises just 70 people, compared with 700 people for Mrs Clinton, although his campaigners have argued that is a positive.
The disclosures follow a difficult period for Mr Trump, with polls showing him trailing Mrs Clinton and criticism over his remarks following the Orlando shootings and his personal attacks on a Hispanic judge.
On Monday, Mr Trump's campaign manager Corey Lewandowski was fired, amid reports of in-fighting.
But he told CNN there was no friction and he had "no regrets".
After Mr Lewandowski's departure, Stephen Stepanek, the Trump campaign's co-chair in New Hampshire warned the team had got to "become much more disciplined and much more focused".