'Three black teenagers' Google search sparks Twitter row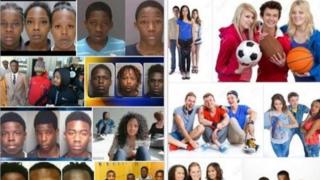 What happens when you type: "Three black teenagers" into a Google image search?
Twitter user @ibekabir reposted a video showing someone doing just that, and thousands of social media users responded - because most of the resulting images were police mug shots.
By contrast, a Google image search for "Three white teenagers" throws up photos of happy, smiling groups of friends.
Social media users started the hashtag #threeblackteenagers to discuss the video.
The post has been retweeted more than 60,000 times and "favourited" 57,000 since it was posted on 7 June.
@No__I__D__ tweeted: "Google is racist."
@j0pierce posted: "Google got oddly specific though."
@husslej posted "@google please Google 'Three black teenagers' and 'Three white teenagers', and then tell us that is not racist."
Computers can't be racist
A Google spokeswoman said: "Our image search results are a reflection of content from across the web, including the frequency with which types of images appear and the way they are described online.
"This means that sometimes unpleasant portrayals of sensitive subject matter online can affect what image search results appear for a given query.
"These results don't reflect Google's own opinions or beliefs.
"As a company, we strongly value a diversity of perspectives, ideas and cultures."
Not everyone agreed that the simple search was cause for great concern.
@ThisKaySaidso posted: "Loooool. Not Google's fault, though. Just means black people need to work on stock online presentation and presence."
@typhoonjim tweeted: "Computers can't be racist guys."
World White Web
But it is not the first time Google has been accused of being racist.
Designer Johanna Burai noticed her web searches for parts of the body were returning pictures of mostly white skin.
She set up World White Web, which encourages people to share their images of non-white hands in a bid to push them up Google's search results.
On her website, she writes: "The more people that share these images, the higher their ranking will be on Google."
In April, student Bonnie Kamona made a similar observation after her search for '"Unprofessional hairstyles for work" resulted in pictures of black women.
Read more: Wear a weave your Afro hair is unprofessional
On typing: "Professional hairstyles for work", she was presented with pictures of blonde white women.
And her screenshots of the results went viral.