Muhammad Ali: Thousands pay tribute online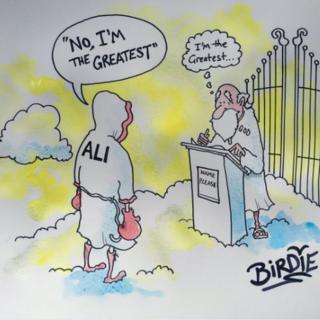 Thousands are posting online tributes to Muhammad Ali who has died at the age of 74.
Ali, the three-times heavy weight boxing champion, passed away after being admitted to hospital in Phoenix Arizona with a respiratory illness.
Fifty-thousand tweets were posted within hours of the news being confirmed in the early hours of Saturday morning. By 08:00 GMT more than 300,000 tweets using the hashtag #MuhammadAli had been posted.
This cartoon image of boxing gloves designed with his famous "float like a butterfly sting like a bee" quote in mind has been shared a number of times from various Twitter accounts.
Ali, who was known as much for his social conscience as his boxing skills, was outspoken and a staunch civil rights activist. His self belief and showmanship made him an endearing figure across the globe.
@Inkquistive tweeted: "I'm so mean I make medicine sick. #RIPMuhammedAli, your charisma will be missed but celebrated for a lifetime."
@MegaMilkshake23 tweeted: "I am freaking out right now, Muhammad Ali was a hero and true inspiration to so many, I refuse to forget him. #inspire
@carmenblanchard tweeted: "Ali was not afraid to speak his mind, He continuously had his own beliefs and he risked his career to spread a message, Respect. #MuhammedAli
In addition to the hundreds of memes quoting the boxing legend, sports stars, celebrities and public figures have also tweeted their reaction to the news.
A number of images are also being shared including this one of a DC comics cover. @ifeelglorious tweeted the picture with the words "RIP Champ." At the time of writing it had been retweeted over 350 times.
By Rozina Sini