Freddie Gray death: Officer acquitted of four charges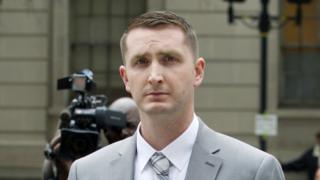 A police officer has been acquitted of charges related to the death of a black man in police custody in Baltimore.
Edward Nero was cleared by a judge of second-degree assault, reckless endangerment and two counts of misconduct in office.
Freddie Gray, who was 25, died after sustaining a severe spinal injury in the back of a police van during his arrest in April 2015.
His death caused days of massive protests and unrest in Baltimore.
Last year, a jury failed to reach a verdict in the case of another officer connected to Gray's death, William Porter.
Officer Porter was the first of six officers charged in Gray's death to be tried, with four more trials still to come.
The most serious charges have been made against Officer Caesar Goodson, the driver of the van.
In Officer Nero's trial, a judge said he "acted as any reasonable officer would" and did not touch Gray until he was in handcuffs.
Officer Nero helped load Gray back into the police van after police said he was kicking, screaming and shaking inside of it.
"The state's theory has been one of recklessness and negligence," said Baltimore Circuit Judge Barry Williams. "There has been no evidence that the defendant intended for a crime to occur."
---
Analysis - Rajini Vaidyanathan, BBC News, Washington
Compared with some of the other police officers who await trial, Officer Nero's charges were less serious - and didn't directly link him to Gray's death.
Other officers who face trial have been accused of second-degree murder and manslaughter.
The speed with which authorities in Baltimore arrested and charged the officers involved in the arrest and detention of Gray was held up as an example of a criminal justice system acting swiftly at a time of high tension between young black men and the police.
But protesters who are demanding justice for Gray say the real measure will be if anyone is in the end held accountable for his death.
---
Mr Nero said he was "relieved" that "this nightmare" was nearing an end.
Baltimore's police union called the trials "baseless prosecutions".
"None of these officers did anything wrong," said Gene Ryan, the union's president. "The state attorney's office responded to the riots and violence in Baltimore by rushing to charge these officers rashly and without any meaningful investigation."
The prosecution had been hoping to use Officer Porter as a witness in the other officer's trials. He will face another trial in June.
Gray's death helped spur a national debate over police use of force, especially against black men.
In Baltimore, protests raged for days and even turned violent, prompting officials to declare a state of emergency and deploy national guard troops.
A post-mortem report found that Gray sustained a neck injury slamming into a van wall during the ride.
He was not restrained with a seatbelt.
During Officer Porter's trial, prosecutors said he ignored Mr Gray's pleas for medical help, describing the van as a "coffin on wheels".
---
Freddie Gray's death - in depth
Duel identities - how a divided city came to riot
Ferguson v Baltimore - two cities rocked by protest compared
That fateful day - - what do we know about what happened?
Baltimore through the lens - an amateur photographer looks at a city on edge
---