Panda-suit man shot after bomb threat at Baltimore TV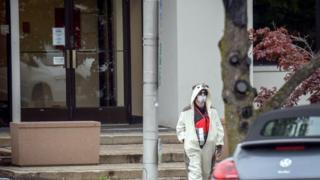 A man wearing a panda costume and a surgical mask has been shot and wounded by US police after allegedly making a bomb threat against a TV station.
Police were called in after the man, who has not been named, walked into the office of Fox TV's affiliate WBFF in Baltimore, demanding it broadcast the content of his flash drive.
He is in a serious condition.
Officials said the alleged explosive device turned out to be chocolate bars wrapped in foil and attached to wires.
The flash drive contained video of the man talking about space and the government, security guard Jourael Apostolides was quoted as saying by the Baltimore Sun newspaper.
The officials said the man - believed to be in his 20s - was shot three times by the police after he ignored orders to take his hands out of his pockets.