Associated Press and New York Times among Pulitzer winners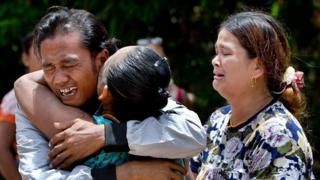 The Associated Press has won the Pulitzer Prize for public service for a series that exposed the use of slave labour in South East Asia.
The stories about companies that supply seafood to the US led to the release of more than 2,000 captive workers.
The Pulitzers - the top prize for US journalists - honoured the New York Times for its articles on the so-called Islamic State militant group.
The Times, along with Reuters, also won for their photos of the migrant crisis.
The awards honour the arts as well. Hamilton - a hip-hop re-telling of the life of one of America's founding fathers - won the Pulitzer Prize for drama.
The hit Broadway musical has been credited with keeping Alexander Hamilton on the $10 note.
Other awards included: