Shooting of Oregon militia 'justified'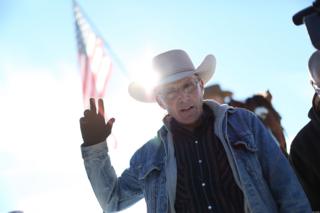 An investigation into the fatal shooting of a rancher taking part in a stand-off at an Oregon wildlife refuge has concluded the killing was justified.
A county prosecutor said LaVoy Finicum had posed a threat to officers.
His death, and the arrest of other activists, ended the occupation of the Malheur National Wildlife Refuge.
More than two dozen people are facing federal charges stemming from the nearly six-week stand-off.
FBI agents from the hostage rescue team are separately being investigated for failing to report that they fired two bullets at the moving vehicle.
The shots fired "were justified and in fact necessary," said Malheur County District Attorney Dan Norris.
Robert 'LaVoy' Finicum, a militiaman apart
The FBI released new video filmed by one of those arrested inside Finicum's truck when it was pulled over by officers.
It shows Finicum as he rolled down his window, and shouted: "Shoot me, just shoot me! Put the bullet through me. Do as you damn well please."
He then accelerated towards the roadblock, reaching 112 kmph (70 mph), nearly striking an FBI agent before crashing into a snow bank.
After leaving the truck he was shot three times in the back by Oregon State Police. Investigators say he was reaching for a pistol on his hip.
A key public leader of the Oregon occupiers, Robert "LaVoy" Finicum, had come from Arizona to participate in the armed takeover of the refuge.
Occupiers there demanded that the federal government relinquish control of public lands and release two local ranchers accused of arson from prison.
Finicum's widow Jeanette said she rejected the investigation's conclusion and will attempt to fight the government "in a different court".
More than two dozen occupiers and activists with ties to the stand-off have been charged with conspiracy to interfere with federal workers.