Nancy Reagan: Tributes to the former US First Lady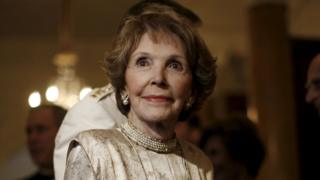 Politicians and friends of Nancy Reagan have been paying tribute to the former US First Lady, who died on Sunday age 94.
The wife of President Ronald Reagan was remembered for her deep love and fierce loyalty to her husband.
The former actress married Ronald Reagan in 1952. The 40th US president died in 2004 aged 93.
Many tributes on social media included their favourite pictures of the former First Lady.
Among them, Nasa tweeted a picture of her after the successful landing of the Space Shuttle Columbia at Edwards Air Force Base in California.
Here are some of the many tributes.
---
Michael Reagan, stepson
Nancy is where she has always wanted to be, with her Ronnie.
---
Former President George W Bush
Mrs Reagan was fiercely loyal to her beloved husband and that devotion was matched only by her devotion to our country. Her influence on the White House was complete and lasting.
---
Former President Bill Clinton and former Secretary of State Hillary Clinton (Democratic presidential hopeful)
Nancy was an extraordinary woman: a gracious first lady, proud mother and devoted wife to President Reagan - her Ronnie.
Her strength of character was legendary, particularly when tested by the attempted assassination of the president, and throughout his battle with Alzheimer's.
She leaves a remarkable legacy of good.
President Obama and First Lady Michelle Obama
Nancy Reagan once wrote that nothing could prepare you for living in the White House. She was right, of course. But we had a head start, because we were fortunate to benefit from her proud example, and her warm and generous advice.
Our former first lady redefined the role in her time here. Later, in her long goodbye with President Reagan, she became a voice on behalf of millions of families going through the depleting, aching reality of Alzheimer's, and took on a new role, as advocate, on behalf of treatments that hold the potential and the promise to improve and save lives.
---
Former California governor Arnold Schwarzenegger
Nancy Reagan was one of my heroes. She served as First Lady with unbelievable power, class and grace and left her mark on the world.
---
Actress Joan Collins
My friend Nancy Reagan died aged 94 The end of an era, love the 80s
---
Republican presidential hopeful Donald Trump
Nancy Reagan, the wife of a truly great president, was an amazing woman. She will be missed!
---
Mitt Romney, former governor of Massachusetts
With the passing of Nancy Reagan, God and Ronnie have finally welcomed a choice soul home.
With charm, grace, and a passion for America, this couple reminded us of the greatness and the endurance of the American experiment.
---
Former President Jimmy Carter
A woman of strength and wit, Nancy Reagan's dedication to our country was matched only by that of her husband.
Theirs was one of our nation's great love stories and a model of shared devotion to our country. America is stronger and better for their service.
---
Senator Ted Cruz, Republican presidential hopeful
Nancy Reagan will be remembered for her deep passion for this nation and love for her husband, Ronald. The Reagan family is in our prayers.
---
Bernie Sanders, Democratic presidential hopeful
No matter your party or political ideology, this is a sad day for America. Nancy Reagan was an exemplary first lady... Even after her time in the White House, she was an outspoken advocate of stem cell research to find a cure for Alzheimer's. Nancy Reagan had a good heart, and she will be dearly missed.
---
Beach Boys co-founder Brian Wilson
Sad to hear Nancy Reagan passed away. She stood up for us in 1984 when we were banned from playing July 4 D.C. Show. Ended up being great.