Powerful storms kill at least three in Virginia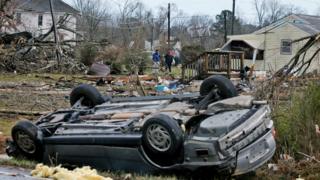 At least three people are dead and thousands lost power after a strong storm system barrelled up the east coast of the US.
The victims were killed in the town of Waverly, Virginia, which was hit with winds up to more than 60mph (97kph).
The same system, which spawned several tornadoes, destroyed hundreds of homes in Louisiana, Mississippi and Florida on Tuesday, killing three others.
Forecasters said more than 80 million people were in the path of the storm.
Tornado warnings were issued for the densely populated region between Washington and Philadelphia.