Defective 'hoverboards' will be seized, US agency says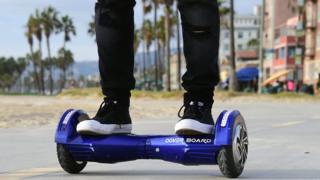 US regulators have warned manufactures and retailers that authorities will seize or recall so-called hoverboards if they do not meet safety standards.
There have been more than 50 reports of fires in 24 US states after batteries inside the self-balancing scooters overheated.
The toy was a top gift in the last Christmas season.
Hoverboards have been banned by major airlines and Amazon has offered refunds on several models over safety concerns.
Consumer Product Safety Commission (CPSC) said hoverboard-caused fires have destroyed two homes and resulted in nearly $2 million worth of property damage.
"Consumers risk serious injury or death if their self- balancing scooters ignite and burn," the CPSC wrote in a letter to manufacturers and retailers.
---
Hoverboard safety: in depth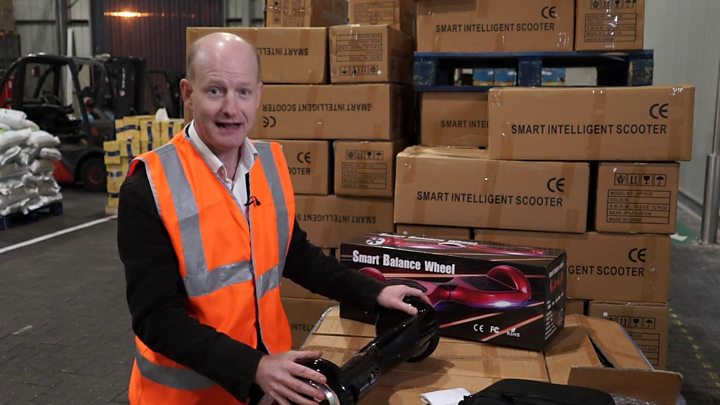 How 'hoverboards' took off - in spite of laws against them - Celebrity early adopters helped make them a hit
Dump unsafe 'hoverboards', Amazon warns - The online retailer is offering refunds
Hoverboard fire destroys family home - Australian family of five is left homeless
---
Many of the models investigated did not meet US safety standards, the CPSC said.
The agency recommends that hoverboard users keep a working fire extinguisher nearby when charging or using the devices and that they be charged only in open areas away from flammable materials.
In the UK in December, National Trading Standards said that 88% of hoverboards examined by the body since October 2015 could explode or catch fire.
Hoverboards have also been blamed for hundreds of injuries after riders fell from the scooters.
---
What is a hoverboard?
"Self-balancing scooters" are known by various names including "hoverboards" and "rideables"
Gyroscopes are used to counter-balance and control the speed of the wheels - with some models capable of travelling at up to 12 mph
They are banned from use on public pavements and roads in the UK and in major US cities such as New York
The Crown Prosecution Service has issued guidance stating they "are not legal for road use"
According to the UK Department for Transport, it is only legal to use them on private property with the owner's consent