America's best in show: German shorthaired pointer wins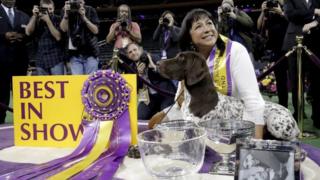 A German shorthaired pointer called CJ has won America's most prestigious best in show dog competition in New York.
The three-year-old beat 2,751 other entries of 199 breeds to take the top dog spot at Westminster Kennel Club.
"He has that extra sparkle," his handler, Valerie Nunes-Atkinson said. "He's an old soul."
CJ, also known as California Journey, is a descendent of two other champions and the third German Shorthaired Pointer to win the competition.
Head judge Dr Richard Meen said CJ had the intelligence and alertness he looked for in a winner.
"This is what we go to bed dreaming about," CJ's owner Valerie Nunes-Atkinson said after the win was announced. CJ gets no prize money, but will now embark on a media tour.
Lucy, a borzoi, pictured here with her handler, Shota Hirai, was runner-up in the competition.
CJ also beat this fluffy Samoyed to win the prized silver bowl.
Rumor, a German shepherd, was ranked the number one dog in the US last year, and has won 101 best in show titles, but she missed the top spot in New York on Tuesday.
This year was the kennel club's 140th Best In Show competition.
Owners often spend hours grooming their pooches.
...and sometimes the handlers get pampered themselves