Trump and Cruz trade blows ahead of Republican debate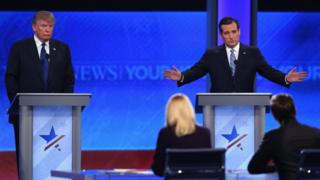 Donald Trump and Ted Cruz have clashed ahead of a debate between the remaining Republican contenders for president.
Mr Trump accused Mr Cruz of negative campaigning and "cheating" and threatened to sue him "for not being a natural born citizen".
Mr Cruz condemned the "amazing torrent of insults and obscenities that come out of [Trump's] mouth".
The two lead the Republican field. Hillary Clinton and Bernie Sanders are contesting the Democratic ticket.
So far, Mr Cruz has won the Iowa caucus while Mr Trump came first in the New Hampshire primary on 9 February.
Does America need to change how it elects its presidents?
The next contest will be the South Carolina primary on 20 February.
New Jersey Governor Chris Christie and former Hewlett Packard executive Carly Fiorina dropped out of the race after disappointing performances in New Hampshire.
Florida Senator Marco Rubio, retired neurosurgeon Ben Carson, Ohio Governor John Kasich and former Florida Governor Jeb Bush are still in the race and will be at Saturday's debate.
Mr Cruz released a television advertisement before Saturday's debate condemning Mr Trump's "pattern of sleaze", which seems to have prompted Mr Trump's threat of legal action.
Mr Trump has previously accused Mr Cruz of fraud and had called for the Iowa caucuses to be restaged.
He has also attacked Mr Cruz over his birth in Canada.
Mr Cruz has previously said there is "zero chance" of a lawsuit succeeding because the constitution's definition of "natural born citizens" included people born to an American parent.
Mr Cruz was born in Calgary to an American mother and a Cuban father.
At a rally last Monday, Mr Trump repeated an audience member's vulgar remark about Mr Cruz, leading many to criticise him.
---
Key dates to come
20 February - South Carolina primary (Republican); Nevada caucus (Democrat)
23 February - Nevada caucus (R)
27 February - South Carolina primary (D)
1 March - 'Super Tuesday' - 15 states or territories decide
18-21 July - Republican convention, nominee picked
25-28 July - Democratic convention, nominee picked
8 November - US presidential elections
---