California gas leak: Plans to fix ruptured well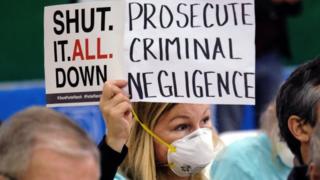 Plans have been put forward to cap a huge gas leak near Los Angeles by the end of next week, a Californian official has said.
An adviser to Governor Jerry Brown is reported to have told Porter Ranch residents that final moves to fix the ruptured well should begin on Monday.
It is estimated that it will take up to five more days permanently to seal it.
The leak in Porter Ranch began on 23 October and has forced more than 13,000 people from their homes.
It has been blamed for a variety of health issues and has been described by environmental campaigner Erin Brockovich as the worst environmental disaster in the US since 2010.
Methane, the main component of the leaking natural gas, is a climate-threatening greenhouse gas.
Mr Brown's adviser Wade Crowfoot was quoted by the AP news agency as saying that work due to begin on Monday will be the final phase to repair the ruptured well.
Earlier this week California Attorney General Kamala Harris filed a lawsuit against the company responsible for the leak.
Depleted
The charges allege that the Southern California (SoCal) Gas Company violated health and safety laws by failing to report and contain the leaking methane.
SoCal Gas spokesman Mike Mizrahi has repeatedly insisted that his company complied with all relevant state and federal regulations in the run-up to the leak.
The firm has promised that it will be plugged by the end of February and the single well in question, a depleted oil field known as SS-25, will be taken out of use.
In other developments related to the leak:
The family of an elderly woman suffering from lung cancer have alleged that fumes emanating from the ruptured underground pipeline hastened her demise, which will now be the subject of a wrongful death claim, Reuters reported
Residents who have been displaced by the leak should have more time to return to their homes after the leak is plugged, officials quoted by My News LA.com say. At the moment they have just 48 hours
Additional health concerns relating to the leak have arisen as new information about it has become available, The Los Angeles Times says. It reports that residents are concerned about the presence of benzene in the gas leaks, which could have long-term health effects for children
The leak has been described as the biggest in California's history, forcing nearly 4,500 families living in the upmarket Porter Ranch area to relocate. About 1,200 more households are in the process of following them.
Repeated efforts to stop the leak by pouring liquid and mud down the stricken well have been unsuccessful. SoCal is now drilling a relief well to seal the damaged well.
---
The leak in numbers
1.77 million: approximate number of cows burping for a year to produce equivalent methane
1.41 million: number of cars that would need to be added to the road to have a similar greenhouse effect in a year
13,000: number of people who have been relocated so far
Calls grow for gas facility shutdown