Search of San Diego hospital finds no evidence of shooting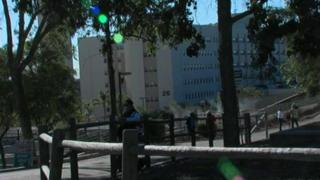 A witness reported hearing three gun shots at a California naval hospital, but a search of the complex found no sign of a gunman.
The report prompted a large police response and the Naval Medical Center in San Diego was locked down for hours.
The hospital had warned of an active shooter situation, advising people in the area to "run, hide or fight".
However, a search by police dogs and other personnel found no evidence that shooting took place.
The reported shots were heard in the basement of Building 26, which acts a barracks for injured service members.
With over 6,500 personnel, the hospital serves wounded soldiers and serves as a training facility for nursing schools in the area.