Theatre-goer accidentally shot by man who feared mass shooting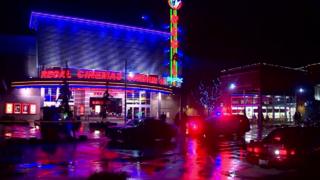 A man who accidentally wounded a woman in a suburban Seattle cinema told police he brought his gun along because he feared a mass shooting.
Police say Dane Gallion, 29, had a gun in his waistband during a Thursday night showing of 13 Hours: The Secret Soldiers of Benghazi.
He told police the gun had dropped to the floor during the film and fired, striking the woman in shoulder.
He fled the cinema after the shooting, but was later arrested.
The woman was treated at hospital and is expected to recover.
Mr Gallion told police he had taken medication for anxiety and drunk beer before the movie.
He was released on bail under the condition he surrender his guns to a family member and avoid drugs and alcohol.
Cinemas have been sites of mass shootings in the US.
In 2012, a Colorado graduate student killed 12 people and wounded 70 others at a showing of a Batman film outside Denver.
More recently, an Alabama man killed two women in July inside a Louisiana cinema,