Ashley Olsen: Police arrest man over Florence murder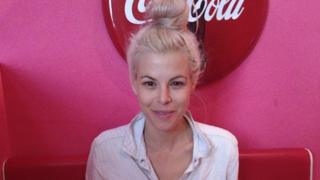 Police in Italy have arrested a man over the murder of Ashley Olsen, an American who was found strangled in her flat in Florence.
Italian prosecutors say Tidiane Cheik Diaw, a Senegalese immigrant, was detained following DNA analysis and witness testimony.
Ms Olsen's body was found by her Italian boyfriend last week.
Investigators say the 35-year-old died as a result of strangling, but she also had a double fracture of the skull.
Speaking at a news conference, prosecutor Giuseppe Creazzo said the suspect had met Ms Olsen for the first time in the Montecarla nightclub in the early hours of Friday and accompanied her back to her nearby flat.
Mr Creazzo said he believed Mr Diaw and Ms Olsen had had consensual sex. Both had drunk alcohol and possibly taken drugs over the course of the night, he added.
The suspect told police he and Ms Olsen had had an argument but he had not meant to kill her, Mr Creazzo told reporters.
Mr Diaw, who is said to have arrived in arrived in Italy illegally a few months ago, was arrested early on Thursday after his DNA was reportedly found on a condom and a cigarette butt in the artist's flat.
Mr Diaw is said to have taken Ms Olsen's mobile phone, into which he inserted his own Sim card.
Mr Creazzo said Mr Diaw had "largely admitted" his role in the events.
Italian media said the suspect, aged about 27, had told police Ms Olsen had fallen during a row.
When she was found, she had bruises and scratches on her neck.
Ms Olsen was from Summer Haven, Florida, and had been living in Florence for three years.
In a tribute in English-language newspaper The Florentine, her friends called her death "horrific" and "unimaginable".
"While we mourn her passing we place our trust fully in the Italian authorities to investigate this tragic episode," they said.
"We wait to hear what they discover, and pray that justice will be swiftly served to whoever his responsible."
Police in Italy were criticised for how they handled a murder case involving another American, Amanda Knox, after British student Meredith Kercher was found dead in 2007 in Perugia, Italy.